2 men face charges in fatal Mililani crash
The two friends face manslaughter and assault charges for the February '07 accident
Two friends are facing manslaughter and assault charges for a crash in Mililani last year that killed one passenger and permanently injured another.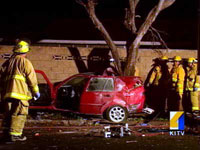 Two friends face charges for a Mililani crash that killed one and permanently injured another.
An Oahu grand jury yesterday indicted Justin Amorin, 22, and Bernard DeCoito Jr., 23, both of Mililani, who witnesses said were racing before the deadly crash on Feb. 23, 2007.
Circuit Judge Derrick Chan set bail at $150,000 each.
"They were driving around 80-100 mph in a residential area, and one of the suspects lost control of his vehicle, causing the death of one of his passengers and serious bodily injury to the other passenger," said Nora Garrod, deputy city prosecutor.
Amorin's compact sedan ran off Lanikuhana Avenue and crashed into a tree. Amorin was hospitalized in serious condition.
Gavin Watson, now 19, the front-seat passenger, flew from the car. An ambulance took him to the Queen's Medical Center in critical condition.
He was hospitalized for 88 days, 41 of them in a coma, according to a civil lawsuit he filed last year against Amorin, DeCoito and their parents. Watson's mother, Marcy Ching, said her son suffers partial paralysis and does not remember what happened.
Gillian Badua, 17, a back-seat passenger in Amorin's vehicle, was pronounced dead at the scene.
A witness who lives on Lanikuhana said two cars sped past his home going at least 85 mph, then one of them crashed into a tree, according to the lawsuit. He said the other car was 15 to 30 feet behind and that the two cars appeared to be racing.
The speed limit for that stretch of roadway is 25 mph.
After the crash, the witness said, the second car slowed down, then sped off.
Outside court yesterday, Badua's mother called DeCoito's actions "cowardly." Badua was DeCoito's girlfriend.
"You don't leave your friends after you see them crash," said Michaele Badua. "How can you do that and not even know they lived or died?"
According to the lawsuit, friends said DeCoito showed up at Mililani Town Center and told them about the crash.
Michaele Badua also filed a lawsuit against Amorin, DeCoito and their parents. A hearing on both lawsuits is scheduled for next week.
DeCoito has two speeding infractions on his driving record. The more recent, on May 16, 2007, was for operating a vehicle going at least 80 mph -- or 30 mph over the speed limit. A $500 bench warrant is in effect in that case because DeCoito failed to appear for a court hearing in December.
Amorin has one speeding infraction on his record, for operating a vehicle 22 mph over the speed limit on Oct. 19, 2006.