Crews comb forest in search for plane
An indistinct radio signal leads searchers to a nature preserve on the southwest side of Mauna Loa
HILO » The search for a missing Island Hoppers Cessna 172M with a pilot and two passengers on board was focused on higher elevations today, especially an area above Manuka State Wayside where a radio signal was heard by ground-based detectors yesterday, Fire Battalion Chief Clint Coloma said this morning.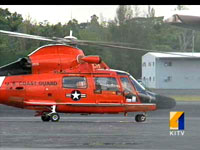 Japanese officials say that 53 year-old Nobuhiro Suzuki and his wife Masako were abord the missing single engine Cessna.
Manuka park is surrounded by a heavily forested state Natural Area Reserve that rises to about 5,000 foot elevation on the west side of Mauna Loa. A Civil Air Patrol team driving the area in a car yesterday, using a hand-held radio frequency detection device, heard a radio signal from somewhere uphill, Coloma said.
The 121.5 megahertz beacon on the missing plane uses 1960s technology, which is known for producing false signals.
In the broader picture, the search is being conducted from 3,000 to 7,000 foot elevation on both sides of Mauna Loa's southwest rift ridge, Coloma said. Although the Coast Guard suspended its search last night, the county continues with two helicopters, joined by four Island Hoppers planes, which had been grounded yesterday, an additional private plane, and two Civil Air Patrol ground units, Coloma said.
---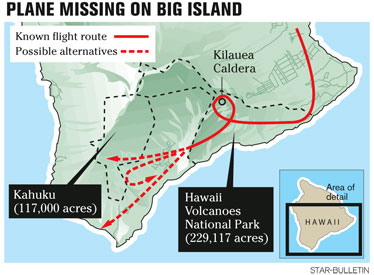 ---
The son and two uncles of a couple who was on board the flight were briefed on search efforts yesterday following their arrival from Japan, Big Island Mayor Harry Kim said.
The Associated Press reported Nobuhiro and Masako Suzuki of Urayasu, Japan, were aboard the single-engine Cessna. Nobuhiro Suzuki is 53 and his wife is 56.
The pilot of the plane was previously identified as Katsuhiro Takahashi, 40, of Kailua-Kona.
The Island Hoppers plane disappeared after making visual and radio contact with another Island Hoppers flight in the area of Kilauea Caldera at about 12:30 p.m. Tuesday.
Coast Guard Lt. John Titchen said there are three general routes the plane may have followed after leaving Kilauea, based on the general practices of tour planes through the remote Kau district on the way back to Kona.
The normal route would be a path between the Hawaii Belt Highway and the seashore, he said. That would keep a plane out of possible bad weather on the inland slope of Mauna Loa. And it would allow for an emergency landing on the highway if necessary, Titchen said.
At times a pilot might follow a shorter route over the hump of the 35-mile-long southeastern rift of Mauna Loa.
A potential difficulty with that route is that it goes over dense forests which give off humidity that can produce sudden cloud formations. "You can get a terrific change of weather almost instantly," Titchen said.
The southeastern rift rises to the 13,679-foot summit of Mauna Loa, but tour planes can comfortably fly only about 7,000 feet high, so they have to be careful where they cross the rift, he said.
Cloud formations can disappear as quickly as they form, but sometimes they force a third alternative: Pilots turn around and head back toward Hilo, then fly between Mauna Loa and Mauna Kea to Kona, he said.
Hawaii Volcanoes National Park ranger John Broward, liaison to the search effort, said employees have been instructed to look for small pieces of debris rather than the whole plane, especially in the Kahuku area.
"It's really thick up there. You could hide a 747," he said.
---
The Associated Press contributed to this report.