Mortgage fraud crackdown
More than 80 people in Hawaii's mortgage loan industry are under FBI investigation. Five have already been indicted.
STORY SUMMARY »
|
READ THE FULL STORY
The FBI is investigating more than 80 people in Hawaii's mortgage industry for fraudulent schemes. The investigations, which number about a dozen, are part of a nationwide federal crackdown on mortgage fraud, which is being blamed for the subprime-loan crisis.
Federal officials estimate that victims nationwide lost more than $1 billion as a result of mortgage fraud.
Five people indicted by a federal grand jury last month are among more than 400 defendants being prosecuted for mortgage schemes.
"These are not the last defendants in Hawaii who will be charged with these types of crimes," said U.S. Attorney Ed Kubo. "There are other ongoing federal investigations involving other mortgage-fraud schemes, and charges are forthcoming for these future defendants."
GENE PARK
---
---
FULL STORY »
More than 80 people in Hawaii's mortgage loan industry are under investigation in about a dozen separate federal cases targeting mortgage schemes, the FBI announced yesterday.
Don't become a victim
The FBI offers the following tips to avoid becoming a victim of mortgage fraud.

» Conduct business only with reputable industry professionals.

» Never sign blank documents relating to your mortgage loan application.

» Never agree to put false information on a loan application, even if requested by the loan officer.

» Never agree to let someone else use your credit information to obtain a loan, even if you are offered payment for the use of your information.

» Never let a loan officer persuade you to borrow more money than you think you can afford.

» Check your credit reports for free at least once a year with each of the three major credit reporting agencies.
Whom to call
If you suspect you are a victim of mortgage fraud, call:

» FBI Honolulu office: 566-4300.

» State Department of Commerce and Consumer Affairs' Consumer Protection Office: 587-3222.
The investigations are part of a nationwide crackdown against mortgage fraud, as the federal government steps up efforts to address the subprime-loan crisis.
Five people were indicted in Hawaii last month as part of Operation Malicious Mortgage, which has brought charges against 406 people nationwide. Almost 300 people have been arrested since March in cities such as Chicago, Dallas and Miami.
FBI Special Agent in Charge Janet Kamerman declined to comment on details on the Hawaii investigations but said that the suspects vary in prominence in the mortgage industry and in the type of schemes planned.
"They range from foreclosure bailout, illegal property flipping to identity theft," Kamerman said. "It's a combination of some companies that are new and some companies that have been here for years."
The FBI said property flipping is the most common cause of mortgage fraud in Hawaii. Illegal flipping is when property is purchased and resold quickly for an artificially inflated price after little or no meaningful rehabilitation.
U.S. Attorney Ed Kubo said mortgage fraud is not as prevalent in Hawaii as it is on the mainland. Hawaii is 38th in the nation for mortgage fraud, according to the Mortgage Asset Research Institute in 2005.
"However, notwithstanding our ranking, these crimes are very real and very damaging for those suffering monetary losses," Kubo said.
Federal officials said local banks are not under investigation as perpetrators, just as victims. They encourage anyone who suspects they are victims of mortgage fraud to contact federal authorities, or else they could be held liable in the scheme.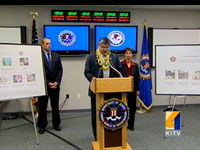 More than 80 people in Hawaii's mortgage loan industry are under investigation.
FBI officials declined to comment on how many people have been displaced from their homes in their ongoing investigations. However, Assistant U.S. Attorney Clare Connors said in the May 15 indictment that two homeowners were displaced.
The indictment charged five people -- John Mendoza, Antonio Alcantara Jr., Ira Altwegg, Albert Alimoot and Evan Koizumi -- with conspiracy to commit mail fraud, wire fraud, and false statements on loan applications.
Federal prosecutors accuse the group of executing a scheme to defraud lenders by making false promises and forging documentation to misrepresent the credit worthiness of the loan applicants.
The alleged scams displaced the owners of a property at 1309 Mokapu Blvd. in Kailua and at 1434 16th Ave. in Kaimuki.
Trial is set for Sept. 23. If convicted, the defendants face up to 20 years in prison. Kubo said he expects the group to see a minimum of four to five years in prison.
The national roundup began three months ago, and authorities estimate victims lost more than $1 billion as a result of the frauds. Among those indicted were real estate agents, lawyers, appraisers and borrowers.
"Mortgage fraud and related securities fraud pose a significant threat to our economy, to the stability of our nation's housing market and to the peace of mind of millions of American homeowners," said Deputy U.S. Attorney General Mark Filip.
There are about 1,400 pending mortgage-fraud cases, many related to subprime loans made to people with poor credit, said FBI Director Robert Mueller.
Bloomberg News contributed to this report.