| | |
| --- | --- |
| | Island Mele |
---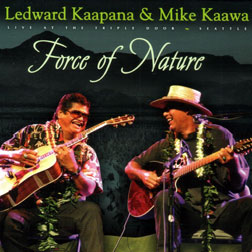 "Force of Nature"
Ledward Kaapana and Mike Kaawa
(no label )
Led Kaapana recorded a memorable "live" album for George Winston's Dancing Cat label several years ago. "Kanikapila - Live," Mike Kaawa's 2006 album for Milton Lau's Rhythm & Roots label, was one of that year's best local releases. It's no surprise, then, that this souvenir of their work together at the Triple Door in Seattle is worth hearing.
Kaapana's talent as a slack-key guitarist is heard on the opening number, "'Opihi Moemoe." The next, "Koke'e," features his falsetto singing. "Slack Key Lullaby" is a third treat for "Led-heads."
Kaawa takes the lead on "He Wehi No Ke Kai," and from that point on the emphasis is on their work as a duo. Kaawa's deep, well-worn vocal style is a nice contrast to Kaapana's falsetto; his work on 12-string guitar likewise meshes cleanly with Kaapana's ki ho'alu. The comments heard on several tracks add context as the work of guys who enjoy playing together.
A medley of "Kaulana O Kawaihae"/"Kalena Kai" reverses the vocal roles with Kaawa taking the higher vocal part, while "Killing Me Softly" gives a pop chart hit a Hawaiian sense of place. "Twelfth Street Rag"/"Sweet Georgia Brown" closes the show with a fresh two-man take on one of Kaapana's signature numbers.
Find "Force of Nature" at any Kaapana or Kaawa performance.
---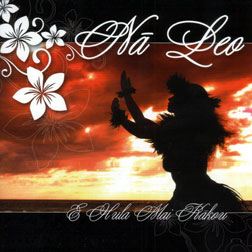 "E Hula Mai Kakou"
Na Leo
(OneHawaii)
Na Leo - Nalani Choy, Angie Morales and Lehua Kalima Heine - have enjoyed consistent success with over the years with original pop and hapa-haole songs, but they do Hawaiian standards beautifully as well. Their latest album follows in the musical "footsteps" of their 2006 release, "Where I Live, There Are Rainbows," with another collection of local classics sung with those unmistakable three-part Na Leo harmonies.
"Do the Hula" sets the mood as they sing of things that have made Hawaii a dream destination for more than a century: flowers, tropical moonlight and a "little brown gal in a little grass shack."
"I Ola Kakou Na Hawai'i" is the first of several Hawaiian selections. "Misty Rains and Lehua" and "E Huli Ho'i Mai" stand out in featuring individual voices up front - the first number is sweet and seductive, the second zesty and up-tempo.
Na Leo closes with a dreamy rendition of "Pupu Hinuhunu" that once more puts on display those gorgeous harmonies.
---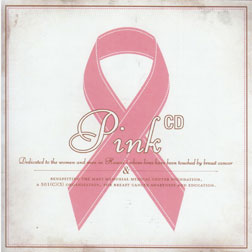 "Pink CD"
Various artists
(Island Soul Entertainment)
Karey Oura and Willie K are the key players behind this professionally produced compilation fundraiser album for the Maui Memorial Medical Center Foundation's breast cancer education programs. Oura provides the record label; Willie performs on two tracks and produced others.
Melveen Leed, Paula Fuga and the Girlas are among the artists who share their talents. Lehua Kalima Heine joins Willie for a bluesy acoustic reworking of "Try A Little Tenderness," Nina Keali'iwahamana shows off her feel for pop standards with "The Very Thought of You" and Fuga weaves her musical magic on an original, "Thought of You." Willie returns to join Alaka'i Paleka for a "Maui Medley" of songs mentioning Valley Isle landmarks and celebrities associated with them.
John Berger
, who has covered the local entertainment scene since 1972, writes reviews of recordings produced by Hawaii artists. See the Star-Bulletin's Today section on Fridays for the latest reviews. Reach John Berger at
jberger@starbulletin.com
.