Hawaii income fourth in U.S.
The state's growth increased 1.6 percent from the last quarter
Hawaii remained in the top tier for income growth rates, according to statistics released yesterday by the U.S. Bureau of Economic Analysis.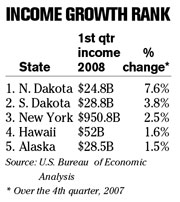 Hawaii ranked fourth in personal income for the first quarter of 2008 nationwide. The state's personal income grew to $52 billion in the first quarter, a 1.6 percent increase from the fourth quarter of last year.
Nationally, U.S. personal income grew an estimated 1.1 percent in the first quarter of this year, a slight drop from the 1.2 percent growth in the last quarter of 2007.
Across the states, personal income growth ranged anywhere from 7.6 percent in North Dakota to 1.9 percent in Arkansas.
North Dakota ranked first in personal income growth, with a 7.6 percent growth over the last quarter due to rising wheat and corn prices, followed by South Dakota (3.8 percent) and New York (2.5 percent). Alaska came in at No. 5, with a 1.5 percent growth over the last quarter.
On an interesting note, BEA found that state unemployment insurance benefits grew 6.9 percent nationally in the first quarter of 2008.
Two states -- Florida and Nevada -- stood out, with unemployment benefits that rose 25 percent and 23 percent, respectively, in the first quarter of 2008.
Personal income is defined by the BEA as income received by all persons from all sources, including the sum of net earnings (wages and salary disbursements), place of residence, rental income, personal dividend income, personal interest income and personal current transfer receipts.