Jobless rate hits 3.5%
State unemployment reaches the highest level since March 2004
Hawaii's jobless rate rose to a four-year high of 3.5 percent in May, reflecting both the shutdown of Aloha Airlines and the pullout of the Pride of Aloha cruise ship.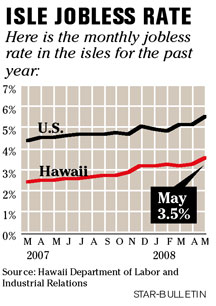 The seasonally adjusted unemployment rate rose 0.2 percentage points over April's rate of 3.3 percent, and 1 percentage point from a year ago, the state Department of Labor and Industrial Relations said yesterday.
The last time isle unemployment hit 3.5 percent was in March 2004. Nationally, it rose to 5.5 percent in May from 5 percent a month earlier. Since April 2002, Hawaii's seasonally adjusted unemployment rate has been lower than the national rate by at least 1.6 percentage points.
About 2,100 people lost their jobs when Aloha Airlines shut down March 31, and NCL Corp.'s Pride of Aloha left Hawaii May 11 to be re-flagged and deployed in parent Star Cruises' Asia fleet. However, NCL later changed plans and placed the ship in its own fleet in Miami.
In May, Hawaii's labor force was 663,350, made up of 639,900 employed and 23,450 unemployed, according to the state. Seasonally adjusted nonagricultural jobs grew in May by 3,900 to 628,400, with the biggest gains coming in the leisure and hospitality sector and construction, following declines in April. The trade, transportation and utilities sector lost 200 people, while educational and health services lost 100 workers.
By county, which are not seasonally adjusted, Honolulu had the lowest jobless rate, at 3.1 percent, followed by Kauai at 3.3 percent, Maui County at 3.5 percent and Hawaii County at 4.7 percent. All counties showed an increase in unemployment this month over last month and year. By island, Maui's non-seasonally adjusted unemployment rate was the lowest at 3.4 percent, while Lanai and Molokai were at 5.1 percent.