---
FAST FACTS HAWAII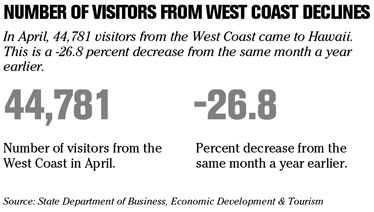 ---
HAWAII
CPB to focus more on community
In an effort to better serve its growing small-business market, Central Pacific Bank is launching a community-based banking initiative that gives bank managers more freedom to make economic decisions at the individual branch level.
A management team consisting of six senior vice presidents has been formed to oversee the efforts, which include having more business bankers at the company's 39 neighborhood branches.
"The key to our success is that our branch manager is involved with the most important things that happen in that community," said Arnold Martines, senior vice president and manager. He estimated that 85 percent of Hawaii firms are small businesses.
The bank will continue to build out the initiative for the next 18 months, he said. He was unable to provide specific hiring numbers.
Martin & MacArthur closing store
Martin & MacArthur
will be closing its retail store at Whaler's Village on Maui after 10 years at the location.
Chief Executive Lloyd Jones said the company decided not to renew its lease at Whaler's Village. A closeout sale will be ongoing until the store's closing, currently anticipated at the end of July.
"Everything's going strong," said Jones, who won the title of Retailer of the Year from the Retail Merchants of Hawaii in 2007. "The furniture side is going strong, the business is going strong for more than 40 years now, and we hope to be for another 40."
The company, founded in 1961, manufacturers hand-crafted koa furniture but also has retail stores. Three retail stores remain -- at Ala Moana Center, the Hyatt Regency Waikiki and the Shops at Wailea.
STUFFING TO AVOID FEES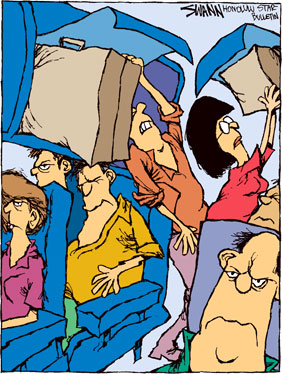 NATION
30-year mortgage rates jump
WASHINGTON » Rates on 30-year mortgages kept surging this week, rising to the highest level in nearly nine months, reflecting more concerns about what the Federal Reserve will do to combat a growing inflation threat.
Freddie Mac, the mortgage company, reported yesterday that 30-year fixed-rate mortgages averaged 6.42 percent this week. That was up sharply from 6.32 percent last week. It was the highest level for 30-year mortgages since they averaged 6.42 percent for the week of Sept. 27 and marked the fourth straight week that they have been above 6 percent.
Rates on 15-year fixed-rate mortgages rose to 6.02 percent, up from 5.93 percent last week. The five-year adjustable-rate mortgage rose to 5.89 percent, up from 5.70 percent last week. The rate on a one-year adjustable-rate mortgage rose to 5.19 percent from 5.09 percent last week.
WaMu cuts 1,200 jobs
SEATTLE >>
Washington Mutual Inc.
, the nation's largest savings and loan, said yesterday it slashed 1,200 jobs -- about 2.6 percent of its work force -- as part of a plan to cut costs and become profitable again.
WaMu, staggering under the rising cost of delinquencies and foreclosures, said in a statement that the layoffs were made in three areas: home loans, jobs not tied to "mission-critical activities," and positions lost as the company centralizes support functions.
The home loans layoffs come a day after WaMu announced it would no longer extend "option" adjustable rate mortgages, which offer very low introductory payments and let borrowers defer some interest payments until later years. But that interest adds up, and homeowners who only make minimum payments can end up owing more than they borrowed.
Before yesterday's announced cuts, WaMu had 45,883 employees.
---
BUSINESS PULSE