---
STYLE FILE
Stay cool as cucumber despite summer heat
Staying cool during the summer months takes effort, but a couple of new products will help you to multitask in the process of getting comfortable.
Peter Thomas Ross offers a gentle Cucumber Gel Masque to help soothe and hydrate skin and reduce puffiness around the eyes with soothing botanical extracts. Increase the cooling quotient by storing it in your refrigerator instead of the medicine cabinet. It's about $45 at Sephora or the Makana Esthetics Wellness Academy, 1168 Waimanu St.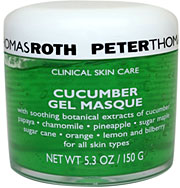 Some cut up real cucumbers and place them over their eyes to cool off and de-stress by shutting out the world, but food is such a precious commodity these days that eyeSlices serve as a glossy replacement. The gel pads fit the eye socket area and release a blend of botanical ingredients to relieve tired eyes, redness and puffiness.
A pair comes in a travel-friendly compact holder and can be used up to five times or over a course of two weeks, whichever is sooner. They cost $20 per two-piece container and can be purchased at www.eyeslicesusa.com.