---
FAST FACTS HAWAII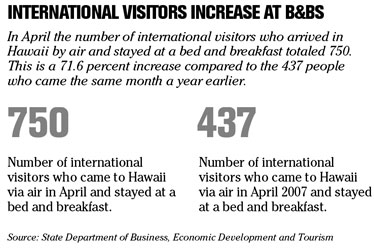 ---
HAWAII
Island Air rolls out in-flight ads
Interisland carrier
Island Air
is using its aircraft as in-flight billboards.
The carrier plans to place advertisements on all six of its 37-seat de Havilland Dash-8s through isle advertising agency UNIS LLC, which specializes in in-flight advertising. Ads will be placed on tray tables and baggage compartments in the aircraft.
UNIS will solicit advertisers, but Island Air has a say in whether the ad will be placed. UNIS plans to offer advertising to nonprofit organizations first, outside Island Air spokeswoman BJ Whitman said. The project has been planned since last year.
"We hope if this revenue opportunity is successful it may eventually provide another means of generating revenue from a different source, other than simply increasing ticket prices," she said.
NATION
SoCal home prices, sales plunge
LOS ANGELES » Median home prices dropped 26.7 percent in May across Southern California's six most populous counties compared with last year, a real estate research firm said yesterday.
DataQuick Information Systems said it marked the steepest annual drop since the firm began keeping records in 1988.
Median home prices fell to $370,000 in Los Angeles, Orange, San Diego, Riverside, San Bernardino and Ventura counties last month. It was the lowest median price reported since March 2004.
Sales volumes for the region climbed about 8 percent from April but were down nearly 15 percent from May 2007.
McClatchy cutting 1,400 jobs
NEW YORK »
McClatchy Co.
, the No. 3 newspaper company in the country, said yesterday it is slashing 1,400 jobs in the latest effort to cut costs amid rapidly dwindling advertising revenues. The cuts represent about 10 percent of the company's work force. McClatchy, which publishes 30 daily newspapers including the Miami Herald and the Fort Worth Star-Telegram, also reported a 15.4 percent decline in advertising revenues in the first five months of the year.
---
BUSINESS PULSE