---
FAST FACTS HAWAII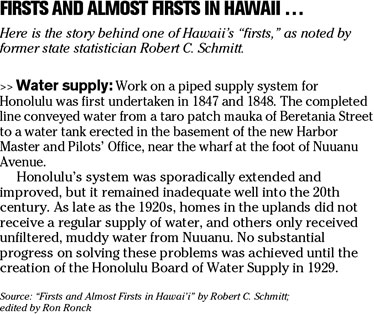 ---
Friendship can affect your career
It's always a good idea to be friendly with your boss and colleagues. But does your job depend on it?
According to Paul Dobransky, author of "The Power of Female Friendship," both men and women are often hired and fired based on the degree of friendship they seem to offer - more so than their experience or productivity.
"We often do not realize the importance of popularity, and how the strength of the friendship we are able to emit in the workplace plays into this hidden process," said Dobransky, a psychiatrist and business consultant. "The value of how good we make other people feel is really this hidden, unwritten thing."
In his book, Dobransky examines how friendship affects a woman's career and family life, as well as the science behind making and keeping close friends and avoiding toxic relationships. As in romantic love, we are drawn to and most compatible with opposite personalities, Dobransky said.
In social situations, including the workplace, individuals are often excluded or shunned by a group because they don't make others feel good about themselves, according to Dobransky. Offering friendship on some level shows consistency and reliability.
"It always comes down to how positive you are, and that includes how you please your boss emotionally," he said. "Whether people realize it or not, decisions are never so much based on surface reasons as they are about the core values of friendship."
YouTube used to find workers
ALLEGAN, Mich. » Drug maker
Perrigo Co.
may redefine the laboratory job with its YouTube video "Perrigo Dancing Scientists."
In less than two weeks, the online video has racked up more than 5,000 hits.
The Allegan-based company launched the video of lab coats getting their groove on in an effort to recruit more scientific talent.
The video can be seen at: www.youtube.com/watch?vlFMZFvtNw7Yl.
It's part of the company's drive to recruit highly trained scientists from the East and West Coasts to Michigan.
Perrigo, which employs 3,000 locally and 7,000 worldwide, is using the YouTube video to get the word out and also convince job hunters that the drug maker in the small West Michigan town is a hip, fun place to work.
It's a sign of the transformation of the workforce from manufacturing to knowledge-based with the focus on having fun while being productive, said Joe Ross, a spokesman for the Manpower employment company.
"It's no longer just salary and health benefits. What (employers) are trying to show is that 'We are a witty, smart, fun place to work,"' Ross said.
The video, which used a mix of actors and scientists, was produced by the Holland, Mich., firm Boileau Communications.
Kim Shriver, Perrigo's talent acquisition manager, said the company could have a sequel video.
"I think we have gotten such a buzz, we have to follow up. We are definitely talking about what we could do," she said.
Gasoline being used as bait
Tired of $4-a-gallon gasoline? How about a free tank?
As U.S. fuel costs rise to records, marketers of cars, travel and even golf equipment are offering deals on fuel to keep sales from flagging.
Callaway Golf Co., the Carlsbad, Calif.-based maker of Big Bertha drivers whose shares have fallen 29 percent this year, is giving away $100 of gasoline with the purchase of clubs costing as much as $529 each.
Chrysler LLC in Auburn Hills, Mich., is capping buyers' costs at $2.99 a gallon (3.8 liters) on most vehicles. Expedia Inc. of Bellevue, Wash., is handing out $50 prepaid fuel cards when customers use the largest Web travel agency to book at least three nights in a hotel.
"Gasoline prices are top of mind for the consumer," said Callaway Chief Executive Officer George Fellows, 65. "The campaign has hit a responsive chord in our customers and provides a significant incentive. We want people driving to the range and this will help them get there."
With home prices at their lowest since September 2004 and unemployment at its highest since the following month, consumer confidence in May reached a 28-year low, according to the Reuters/University of Michigan sentiment survey.
U.S. gasoline demand has been falling in the last couple of weeks, a sign that record pump prices are cutting into driving, according to MasterCard Inc.
Marketers are taking the decline in consumer sentiment as an opportunity to use free fuel as bait, said Burt Flickinger, managing director at New York-based Strategic Resource Group.
"The last time we really saw anything like this was 35 years ago with the first big spike in oil in 1973 and 1974," he said.
U.S. automobile sales dropped 8.4 percent in the first five months of the year, according to Autodata Corp. of Woodcliff Lake, N.J..


---
BUSINESS PULSE