Leaving kids alone in car draws penalty
Anyone who leaves a child unattended in a car could face a traffic citation, similar to a speeding ticket, under a proposal signed into law by Gov. Linda Lingle yesterday.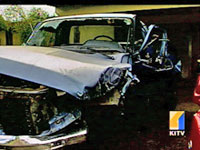 Two new laws will require repeat and exceedingly drunk drivers to buy new devices for their car and harsher punishments for people that leave a minor unattended in a car.
The law, Senate Bill 2245, makes it a violation of the state traffic code to leave a child unattended in a motor vehicle for more than five minutes.
It also requires drivers' examiners to test driver's license applicants for knowledge of the law and requires notice of the law to be placed in rental cars.
First-time offenders would face fines of $200 to $500.
Since 2003, three children in Hawaii have died from heatstroke after being left unattended in a car, Lingle said.
"The police officer would have to have evidence that the child had been left in the car more than five minutes. Usually that would take the form of the police officer being there," Attorney General Mark Bennett said.
Bennett noted that police already have the authority to take action if they see a child in distress. The new measure gives law enforcement an additional tool to raise awareness of the issue, he said.