| | |
| --- | --- |
| | Newswatch |
---
Molokai Utilities sued over water
Maui County filed a formal complaint yesterday with the state Public Utilities Commission against Molokai Public Utilities Inc. in response to its announcement
it will no longer provide water and sewer service to West Molokai residents and businesses at the end of August.
The county cited health concerns and the well-being of its citizens, which include 1,200 Molokai residents, businesses and other customers including Maui County, a Maui County news release said.
Molokai Utilities, operated by Molokai Ranch, is the sole water source for county fire hydrants on Kaluakoi Road through Maunaloa town and in Kualapuu.
The county also relies on it for supplying water at Papohaku Beach Park and Kualapuu Park.
"The Molokai Utilities and its parent companies have the financial resources to continue operations of their utilities," Mayor Charmaine Tavares said in a written statement. She anticipates the PUC will hold the companies accountable "since the outcome will affect privately operated water and wastewater systems in all four counties."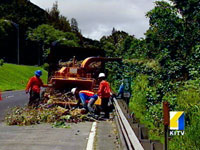 Motorists that use the Pali will have to adjust as the state plans to remove tree stumps and other debris off Pali Highway.
State to trim Pali Highway trees
The Department of Transportation will soon begin a six-month tree trimming and removal project on Pali Highway from 8:30 a.m. to 2:30 p.m. on weekdays.
"We don't anticipate a major delay" to traffic, said Tami Mori, spokeswoman for the Department of Transportation.
The project will begin on the Kailua-bound side of the highway and eventually move over to the town-bound direction. One lane of highway will be coned for a half-mile at a time as crews work to trim and remove up to 65 trees. Motorists should drive cautiously when driving through the work area and allow for extra travel time.
Bob Loy, environmental director for the Outdoor Circle, said the group is working with the state.
"Even though there is a lot of trees on the Pali Highway, each one is valuable, so we want to make sure each one has a valid reason for removal," Loy said.
The work is being done for safety reasons, after several incidents earlier in the year in which passing cars were damaged and traffic was obstructed by falling trees, transportation officials said. Some of the trees suffer from termite damage or lean over the roadway dangerously.
The exact starting date has not been determined and will be announced later.
Church will hold Diabetes Sunday
Diabetes Sunday, a church-based program to increase community awareness about the disease, will be held from 10 a.m. to 12:30 p.m. tomorrow at Our Lady of the Mount, 1614 Monte St.
The Hawaii Medical Service Association and the American Diabetes Association are presenting the program at various churches on Oahu.
After church services, an educator will give a presentation on diabetes which will be followed by a small health fair, free diabetes screenings, eye exams, blood pressure screenings and possible cooking demonstrations.
For more information, call Zachary Creech at HMSA, 948-6320.
UH tweaks classified-study panel
The University of Hawaii Board of Regents approved changes last month in the makeup of the board that oversees classified research at the university.
The six-member "managerial group" meets twice a year to review any classified contracts with university researchers and to review issues around classified contracts, said UH Vice President for Research Jim Gaines.
The board now consists of Gaines, UH President David McClain, Vice President for Administration Sam Callejo, Vice President for Budget and Finance Howard Todo and David Lassner, vice president for information technology and chief informational officer.
The secretary of the Board of Regents, the vice president for legal affairs and the vice president for academic affairs are no longer part of the group, Gaines said.
The changes reflect recent university reorganization, Gaines said.
| | |
| --- | --- |
| | Police, Fire, Courts |
---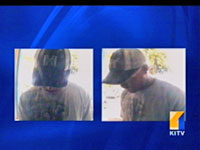 Police say someone broke into her home four times and every time stole only her ATM card – taking out nearly $20,000 from her bank account.
Home-burglary suspect sought
Police hope someone might recognize a mustached man caught on surveillance video using an American Savings Bank ATM in Kaneohe on multiple occasions. The man is wanted for questioning in connection with four burglaries of the same Kaneohe home between Dec. 31 and April 15.
The man in the video used an ATM card reportedly stolen in those burglaries.
The resident's ATM card was stolen each time, police said.
Anyone with information is asked to call CrimeStoppers at 955-8300 or *CRIME on a cell phone.
HONOLULU
Pedestrian killed in hit-run is named
A pedestrian killed earlier this month in a hit-and-run accident has been identified as Bonifacio Libosado Sr. of Honolulu, according to the Medical Examiner's Office.
Libosado, 79, was struck by an Ewa-bound sport utility vehicle as he crossed Dillingham Boulevard near Kaaahi Street at about 9 p.m. June 4, police said.
He was knocked into the next lane, run over by another Ewa-bound vehicle and dragged about 30 feet.
He died a few hours later at the Queen's Medical Center.
The driver of the SUV stopped initially, then fled
the scene. Police, who were still looking for the driver yesterday, believe it was a new car because it had paper plates.
The second car stopped.
CENTRAL OAHU
Man is arrested in assault of girl
Police arrested a 19-year-old Wahiawa man Thursday for allegedly sexually assaulting an 8-year-old girl at a Wahiawa home.
The girl told police she had been sexually assaulted prior to Nov. 13 by the man, and made that disclosure after she and her family had moved to the mainland, police said.
The girl identified the 19-year-old man in a photographic lineup, police said. He was arrested on suspicion of one count of first-degree sexual assault and three counts of third-degree sexual assault.
The man was arrested at 1:10 p.m. Thursday and released that evening pending investigation.
LEEWARD OAHU
Husband charged in stabbing of wife
Prosecutors charged a 71-year-old Waipahu man who allegedly stabbed his 70-year-old wife in the chest on Wednesday morning with a large kitchen knife.
Marcial R. Aguilar was charged with second-degree attempted murder.
Police said the woman was puzzled by her husband's odd behavior, turning the kitchen light on and off.
At 5:53 a.m. Wednesday, the woman went to wash her hair in the basement, and her husband followed her, pushed her and then allegedly stabbed her once in the chest with a kitchen knife with a 7-inch blade, according to a police affidavit.
The woman suffered a small puncture wound, police said.
When he allegedly tried to stab her again, the woman raised her arms defensively and grabbed the knife. She received a slash to her hand, the affidavit said.
The woman yelled for help and said, "I'm dying," police said. She also fought back and bit her husband on his ear and scratched his lower lip.
EAST HONOLULU
Shark is spotted off Diamond Head
Police, lifeguards and state Division of Conservation and Resources Enforcement officers investigated a report of a shark sighting yesterday afternoon off Diamond Head Beach Park.
A person reported seeing a 10- to 15-foot shark at about 5 p.m. yesterday, about 300 feet off the surf spot known as Cromwell's, authorities said.
However, there was no confirmation concerning the sighting, said Deborah Ward, Department of Land and Natural Resources spokeswoman, early yesterday evening.
In an unrelated incident Wednesday, several hammerhead sharks were spotted swimming across the sandbar in Kaneohe Bay.
Randy Honebrink, Shark State Task Force spokesman, said hammerheads are generally not dangerous but should not be approached.