| | |
| --- | --- |
| | Wood Craft |
---
Anita Hall, piano man give Nordstrom crowd a treat
HOT ISLE SINGER
Anita Hal
l was walking through Nordstrom Wednesday and heard the sound of a piano. She followed the sound to the Men's Department and was surprised to find
Joshua Kaye
, a transplant from San Francisco, tickling the ivories. "I couldn't resist chiming in with an impromptu jam session," Anita said.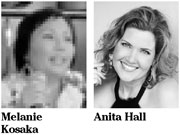 "We serenaded a number of unsuspecting shoppers, employees and one security guard. I thought I was gonna get the boot until he asked for another song. There's a nice little seating area near the piano where guys can take a load off and listen while the other half shops." Anita is recording a CD with producer
Dave Tucciarone
that will be out by Christmas. She praised "The Joshua Kaye Quartet/Live" CD ...
Guests at Sub-Zero got a taste of Melanie Kosaka's "Share Your Table" along with food and wine Thursday evening. Melanie's cofounder of the project is creative director Tony Tung. "Share Your Table" is a web-based multimedia and interactive project featuring the best of Hawaii's culinary scene with stories, recipes, cooking and shopping tips and family traditions. The content of ShareYourTable.com is updated weekly...
Chuck Furuya introduces JIM 'Kimo' Clendenen
Wine expert
Chuck Furuya
is on the "Share Your Table" menu and was emcee for Thursday's brief program. Chuck introduced surprise guest
Jim Clendenen
, who he calls a "legendary winemaker." Jim provides designer wines for top restaurants and hotels in the U.S., including Roy's, Alan Wong's, the Halekulani and Chuck's own CF label. He's made 65 visits to Hawaii over the years. "That's why we call him Kimo," Chuck said. Jim, a big long-haired blond, looks more like a biker than a respected winemaker. He is here for the Kahala Hotel's Food and Wine Festival this weekend ...
Among the vendors for the Sub-Zero event were: Nico Chaize of Nico's at Pier 38; Shin Ho of Ho Farms; Jean Nakanishi, Carol Nardello and Carol Nakagawa of Sub-Zero/Wolf; Candy Suiso of Makaha Mangoes; Chris and Dawn Miura of Mauna Kea Baking Co.; Hawaii State Department of Agriculture Seal of Quality Program; Helena's Hawaiian Food; Eddie Flores of L&L Drive-Inn; Marjorie Kosaka (Melanie's mom); and Melanie Kosaka, "Share Your Table"/First Daughter Mediaworks, wine ...
Ben Wood
, who sold the Star-Bulletin in the streets of downtown Honolulu during World War II, writes of people, places and things in our Hawaii. E-mail him at
bwood@starbulletin.com