---
FAST FACTS HAWAII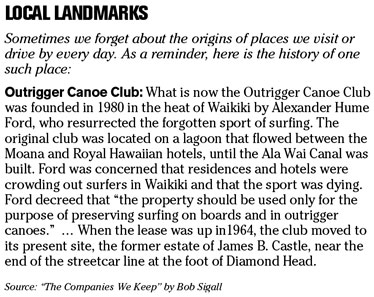 ---
HAWAII
Horizon Lines going green
Horizon Lines Inc.
, the second largest ocean shipper in Hawaii, announced yesterday the launch of a wide-ranging corporate environmental initiative called Horizon Green.
The Charlotte, N.C.-based company says that it has launched Horizon Green to measure freight transportation's impact on the environment as well as programs to help mitigate it.
"Horizon Lines is committed to protecting the environment and ensuring the safety and health of our associates and the public," Horizon Chief Executive Chuck Raymond said. "Horizon Green will focus our environmental effort across the entire Horizon Lines organization."
Horizon Lines will address four key areas: protection of the marine environment, reduction of transportation emissions, a sustainable approach to logistics management, and carbon offsets.
Aero Green, a new carbon offset shipping program, for instance, offers retailers and manufacturers the opportunity to purchase environmental credits that fund forestation and alternative energy projects.
Horizon operates a fleet of 21 U.S.-flag container ships linking the U.S. to Alaska, Hawaii, Guam, Micronesia and Puerto Rico.
Kahala to open at Ala Moana
Kahala, a new sportswear boutique reviving the legendary brand, is opening on Father's Day on Sunday at Ala Moana Center.
The 800-square-foot boutique on the second level of the new Nordstrom Wing is the first Kahala retail store.
Though the Kahala Sportswear brand was launched back in 1936, it is being relaunched under the new ownership of Tori Richard Ltd., which acquired the company from Local Motion two years ago.
The original Kahala was one of Hawaii's oldest garment manufacturers that had garnered a loyal following for its quality, island-inspired prints.
Tori Richard is giving the Kahala brand a modern twist, and has come up with a new logo and label featuring the image of local canoe surfer Jimmy Thurston. The hangtags, meanwhile, feature poetic copy by surfing legend Gerry Lopez.
It will offer a complete line of aloha shirts, 100 percent organic cotton T-shirts, and bottoms, including casual board shorts. A grand opening and store opening is slated for June 19.
Insurance education offered
In an effort to reach more people, the state has expanded its national insurance consumer education program -- Insure U -- to target domestic partners, single parents, grandparents raising grandchildren, and members of the military.
Key research findings by the state Insurance Division include the following:
* 49 percent of domestic partners said they have no formal documentation providing evidence of their relationship. Only 47 percent said they had plans that allowed coverage of their partner.
* 15 percent of single parents said their children did not have health insurance. Only 37 percent said they carried life insurance for the benefit of their child.
* 52 percent of grandparents raising grandchildren said they had no proof -- such as legal guardianship papers -- to document their role in raising their grandchildren.
* 38 percent of military member did not know if their policies covered death due to an act of war.
The curriculum, available at www.insureUonline.org, provides insurance tips on four basic types of insurance: auto, home, health and life.
My Gym to open in Kailua
My Gym Children's Fitness Center
is celebrating its grand opening in Hawaii with a weeklong open house.
The fitness center, which offers children from 6 weeks to 9 years old noncompetitive gymnastics-based class, is holding open house at its new location at Enchanted Lake Shopping Center in Kailua from June 27 to July 5.
My Gym offers custom-built equipment, including a ball pit, trampoline, swings and activities including songs, dances, games, circle time and puppet shows.
The My Gym franchise, headquartered in Sherman Oaks, Calif., has more than 200 locations worldwide. It was established 25 years ago.
NATION
Personal jet inspection ordered
WASHINGTON » Federal regulators have ordered the immediate inspection of throttles on small personal jets manufactured by
Eclipse Aviation Corp.
after one plane made an emergency landing in Chicago.
In response to an urgent recommendation from the National Transportation Safety Board, the Federal Aviation Administration issued an emergency order late Thursday requiring inspection of all Eclipse 500 aircraft throttles and replacement of malfunctioning ones before each plane is flown again. The FAA order also requires that operators immediately insert into the aircraft's flight manual new emergency procedures for dual engine control failure.
The FAA said the Chicago incident had shown that the throttles for the plane's two engines could remain stuck at full power if pushed forward with enough force, depriving the pilot of the ability to control the speed.
---
BUSINESS PULSE