| | |
| --- | --- |
| | Newswatch |
---
Man charged in Kaneohe killing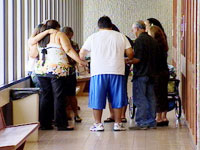 The two families embrace at first court hearing.
Glenn Keohokapu Jr. made his initial court appearance yesterday morning on charges of second-degree murder. By noon an Oahu grand jury returned an indictment charging him with Sunday's killing of a man who was trying to break up an alleged fight between him and his wife.
Following his indictment yesterday, Circuit Judge Derrick Chan confirmed Keohokapu's bail of $300,000.
Keohokapu, 35, is charged with murder in connection with the fatal stabbing of Steven Wilcox in the parking lot outside Club Komomai in the Kaneohe Shopping Center.
Witnesses told police Wilcox, 19, was breaking up a fight between Keohokapu and the suspect's wife when Keohokapu challenged Wilcox to fight and stabbed him.
Keohokapu and his wife fled following the stabbing. Police arrested him Monday at his home in Waimanalo.
Weekend project to close lookout
The Puu Ualakaa State Wayside lookout will be closed next Friday and June 21 for maintenance work.
Boy Scout Troop 35 from Noelani Elementary School will paint railings and pavilion sections and re-stripe the parking lot. The work is part of the troop's community service project.
The lookout, which has a panoramic view from Diamond Head to Pearl Harbor, will reopen June 22.
Sunset on the Beach to return
This Father's Day weekend there will be movies, music and food at Waikiki's popular Sunset on the Beach.
The Marine Forces Pacific Band will perform tomorrow from 6:30 to 7:15 p.m., with two films to follow.
The first is a Hawaii International Film Festival award-winning documentary called "Beautiful Son," about one family's struggle to heal their son suffering from autism. The second feature is a family comedy starring Cuba Gooding Jr. called "Daddy Day Camp," about two fathers who take over running a summer camp.
On Sunday, Son Caribe will perform from 5:30 to 7:15 p.m. Following is a screening of the romantic comedy "Enchanted," a fairy tale set in modern-day New York City and starring Patrick Dempsey.
Gov OKs bill on teacher's licenses
Gov. Linda Lingle has signed into law a bill enabling the Hawaii Teacher Standards Board to suspend the teacher's license of a teacher convicted of a sexual offense.
Until now, misbehaving teachers could be fired, but they retained their licenses, meaning there was little to stop them from getting jobs elsewhere.
The board oversees the state's 12,000 active licensed teachers.
Across the country, sexual misconduct allegations led states to take action against the licenses of 2,570 educators from 2001 through 2005. The cases includes licenses that were revoked, denied and surrendered.
Licenses are often required when teachers move from one state to another. If a teacher's license has not been revoked, there is little stopping her or him from starting over.
Group promotes testing for HIV
Life Foundation, which offers free and anonymous year-round HIV testing, will observe National HIV Testing Day on June 27.
The National Association of People with AIDS established the day to create public awareness about the disease and encourage testing.
Life Foundation welcomes walk-in clients for testing from 9 a.m. to 4:30 p.m. Monday through Friday at its offices, 677 Ala Moana Blvd., Suite 266. It also does testing in remote locations such as public parks or private homes. This year, for the first time, the foundation and state Department of Health have rapid HIV testing, with results available in 20 minutes. For more information on HIV testing, call 521-AIDS (521-2437) or visit lifefoundation.org.
Workshop for robotics teachers
The second Free Robotics Teacher Workshop will be held at Chaminade University from 8 a.m. to 2 p.m. next Friday and June 21 for first-year attendees and June 23-24 for second-year participants.
For more information or to reserve a space, contact Nancy McIntyre at (818) 347-8300, ext. 424, or e-mail nmcintyre@chaminade.org. The workshops are free.



| | |
| --- | --- |
| | Police, Fire, Courts |
---
NEIGHBOR ISLANDS
Suspect in robbery spree is arrested
Police arrested and charged a Lahaina man Tuesday in connection with four West Maui bank robberies in which he allegedly presented a note and displayed a small box with wires and electrical tape.
James C. Thobe was charged with four counts of first-degree robbery. He was arrested at a Kaanapali residential condominium.
Police said the latest incident occurred Monday at the American Savings Bank in Lahaina on Papalaua Street.
Police traced the crime back to Thobe using the getaway mo-ped.
Thobe is in custody in lieu of $200,000 bail.
Crash in lava field kills Big Isle driver
One man was killed in a single-car accident in Puuanahulu on the Big Island early today, according to Hawaii County officials.
A Big Island fire rescue crew from the Waikoloa station was called out at 12:17 a.m. Near the 18 mile marker on Highway 190, the crew found one vehicle in a lava field off the highway with a smashed roof, indicating that the car had rolled over, according to a news release.
The victim was found dead 50 to 60 feet from the car in the Puuanahulu Game Management Area, the release said.
The age and name of the victim, and circumstances of the accident, were not available
Another arrest made in meth bust
Big Island police arrested and charged a second man with crystal methamphetamine trafficking yesterday after finding crystal meth during the search of a home on 40th Avenue in the Orchidland subdivision in Puna.
Edward Delos Santos, 47, was arrested in Hilo at 11:45 a.m. Police charged him with methamphetamine trafficking, promoting a dangerous drug and two counts of possessing drug paraphernalia.
He is being held at the Hilo police cellblock in lieu of $8,000 bail.
On June 5, vice officers served a search warrant on the Orchidland property and recovered about four ounces of crystal meth. Five persons were arrested.
The following day one suspect, Bill Shane Vierra, was charged with meth trafficking and other drug offenses. He was later released after posting $12,500 bail.
HONOLULU
No motive found in alleged knifing
Authorities charged a 28-year-old Liliha man yesterday for allegedly stabbing a 51-year-old man early Monday morning in Honolulu.
Im Hethon was charged yesterday with second-degree assault. Bail was set at $11,000.
Hethon allegedly stabbed the older man in the arm with a knife, police said.
Police said the stabbing was done apparently without provocation.
Police arrested Hethon at 2 a.m. Monday at his Liliha home on suspicion of third-degree assault.
He was arrested at 9:30 a.m. yesterday at the main police station on suspicion of second-degree assault, police said.
Slain pedestrian was Honolulu man
The identity of a pedestrian killed in a hit-and-run accident earlier this month was released by the Honolulu medical examiner's office.
He was 79-year-old Bonifacio Libosado Sr. of Honolulu.
Libosado was hit as he crossed Dillingham Boulevard near Kaaahi Street about 9 p.m. on June 4.
He was initially hit by an Ewa-bound sport utility vehicle, police said.
He was knocked into the next lane and run over by another Ewa-bound vehicle and dragged about 30 feet.
He died a few hours later at the Queen's Medical Center.
The SUV stopped initially, then fled the scene. Police believe it was a new car because it did not have license plates, only paper plates indicating a recent purchase. The second car did stop.
windward OAHU
Woman arrested in attack on family
Police arrested a woman in her 20s Wednesday for allegedly assaulting a 19-year-old Waimanalo man at his house after she punched his mother.
Police said the woman went to the man's house and allegedly called him out to fight. The woman then allegedly forced her way into the house, allegedly punching the man's mother, police said.
The incident occurred at 8:15 p.m. Wednesday.
The woman then allegedly caused minor damage to the house, police said.
Police arrived and arrested the suspect for investigation of first-degree burglary and fourth-degree criminal property damage.
The victims suffered minor injuries, police said.