| | |
| --- | --- |
| | Island Mele |
---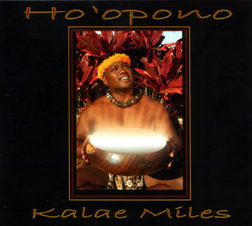 "Ho'opono"
Kalae Miles
('Amakua)
A hapa-haole version of "What A Wonderful World" sets the mood for this first album by singer/musician/song writer Kalae Miles. Miles sings Louis Armstrong's posthumous hit in Hawaiian rather than the original English, but the popular melody is so well known that it transcends the language barrier.
Miles also includes hapa-haole songs with English lyrics. Acoustic piano and steel guitar provide perfect instrumental accents to his take on "On Lovely Lanikai," while those same instruments also add traditionalist textures to beautiful renditions of several Hawaiian standards: "Pua Lililehua," "Hi'ilawe" and "Kalena Kai."
Other selections are curiosities. "Ho'opono/I Didn't Think It Could Be," jointly credited to Andrae Crouch and Kalae, apparently combines a composition by the famed gospel singer with one by Miles.
Miles' strength is found in his voice. He is, alas, less successful as an English lyricist, at least in terms of demonstrating a command of the basic concepts of rhythm, rhyme and poetic meter. The lyrics of two songs are more akin to stream-of-conscious ramblings than the work of a polished lyricist. On the other hand, that could be his intent.
Two guests add their voices to the project. Navid Najafi recites in English on "E Ho'olohe I Na Keiki," and Ku'ulei Reyes chants solo on "He Lei No Ku'iu Home Kalaiwi." Since Nafaji performs in English, his piece makes it possible for mainstream audiences not fluent in 'olelo Hawai'i to deduce that Miles' Hawaiian lyrics speak of "putting a stop to negative connections" and working together. Reyes' chant is a solo a cappella performance.
Miles and his producers refer the listener to www.kalaemiles.com for lyrics and English translations, but as of press time, that information didn't appear to be online yet.
---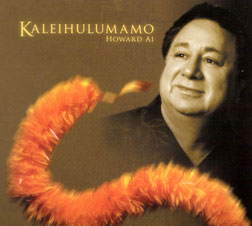 "Kaleihulumamo"
Howard Ai
(Ginger Doggie)
Behold yet another of those all-too-rare Hawaiian albums that would do Hawaii proud as a Grammy winner. Howard and Olana Ai do everything right as the executive producers of Howard's solo debut. With the exception of a few problematic synthetic filler tracks, the music is gloriously traditional in style and arrangement. The first song establishes Howard as a competent vocalist. He is joined by other members of the family thereafter.
Take note, for example, of his three sons' work as backing vocalists, and the guest appearances by his daughter, Natalie Ai Kamauu, on "Waiaka" and "Ipo Lei Manu." Howard delivers the latter song in a bittersweet, romantic context with an arrangement that segues into "Aloha 'Oe."
Howard and his musicians put a memorable modern spin on "Adios Kealoha," and they switch from Hawaiian to hapa-haole with a romantic rendition of "Moonlight and Shadows." That's the only English-language song on the album, and it is one of the standout numbers in an impressive collection.
Howard and Olana also share credit for liner notes that tell a love story behind the album and reveal the significance of the title.
John Berger
, who has covered the local entertainment scene since 1972, writes reviews of recordings produced by Hawaii artists. See the Star-Bulletin's Today section on Fridays for the latest reviews. Reach John Berger at
jberger@starbulletin.com
.