Hawaii residents making a splash on the national scene
HAWAII RESIDENTS are showing up in the national spotlight more often these days. From
Shane Victorino
playing Major League Baseball to
Loretta Ables Sayre
starring on Broadway, our homegrown talent has proven we can hang with the best and brightest from around the country. The latest examples:
Cara Horibe
,
Mark Kanemura
and
Kyle Smigielski
.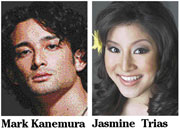 After finding success with "America's Best Dance Crew" earlier this year on MTV, executive producer (and "American Idol" judge) Randy Jackson was asked to bring the show back for another run this summer. Horibe, a 2002 Castle graduate, is a member of the Los Angeles-based Fanny Pack crew that's one of 10 trying to make it onto the second season (vote for her online at MTV.com).
Kanemura is another Castle grad in a dance competition on the small screen. He's a solo contestant on FOX's "So You Think You Can Dance," selected as one of 20 finalists invited to appear on the fourth season of the show. The 24-year-old is an Army Community Theatre and Diamond Head Theatre veteran, and like Horibe, has ties to 24-7 Danceforce.
Smigielski probably is the most infamous, thanks to his appearance on "A Shot of Love 2," the MTV reality dating show that features Tila Tequila and her bi-curious search for romance. The Punahou grad earned the nickname "Creepy Kyle" after other contestants noticed his stalker-ish tendency to stare obsessively at the show's star. He was eliminated shortly thereafter ...
...IF YOU couldn't make it to Las Vegas last year for Jasmine Trias' run with the Society of Seven, you've got another chance to see the 21-year-old reprise her roles as Shakira, Britney Spears and Janet Jackson. She'll join the Society of Seven LV from June 20 through July 31 at the Outrigger Waikiki's Main Showroom.
"This was actually in the works for a while," Trias explained earlier this week. "The Society of Seven in Hawaii didn't have a girl, so they thought it would be a great idea.
"We talked about it after my gig in Vegas, (and) after that, it was just a matter of scheduling."
Trias is currently in final rehearsals for the Outrigger shows, scheduled for 8:30 p.m. nightly, except Mondays. Call 923-7469 for reservations.
"When I was in Vegas, I was sad that I only got the chance to perform with them for two months," Trias said. "I wanted it to last longer because the chemistry ... was great on stage. We just have a good time together" ...
CONGRATS TO On Stage Drinks and Grinds' Dave Young, who plans a big celebration at his Kapahulu Avenue bar this weekend.
"Friday the 13th is a big night for me," he said. "I'm having both my birthday party and my band's CD release combined on one evening."
On Stage has been a haven for live music since it opened in 2004, with regular open mic sessions and a wide variety of live music. Young's own Dave Young Band is an "acoustic folk rock/country style (band), reminiscent of Van Morrison, the Eagles and Crosby, Stills and Nash."
The party starts at 9 p.m. Friday, with Young and crew on stage until midnight. Autographed CDs will be available for purchase ...
ANYONE ELSE notice the number of celebrities making their way to the islands recently?
Oahu residents may not be aware, since many of them shun Oahu for Maui. Others, like recent heart attack victim Kelsey Grammer, opt for the Big Island.
Hip-hop legend Dr. Dre returned recently for a few days of rest and relaxation, while Colbie Caillat visited Kauai after a private performance on Oahu. John Mayer was spotted in Waikiki after a private gig on Lanai, while Mariah Carey was in town last weekend to film a music video ...
PARTY PICKS: Level H Promotions celebrates its third anniversary on Friday at the O Lounge (full disclosure: your columnist co-promotes a monthly local hip-hop showcase with Level H). Get there early for $2 drinks, a car show in the club's parking lot and a "Go-Go Dance-off" hosted by Sheleen Dee. Doors open at 9 p.m. ... Also on Friday, Tropics Cafe brings back "Hip-Hop at the Trops" with performances by Fat Soul and Discmanhole. No cover for this 18-and-over party ... "Moonlight Mele" returns to Bishop Museum next week. Gates open at 6 p.m. Thursday; John Cruz and the Girlas headline, with additional concerts planned for July 17 and Aug. 14.
Tickets are $20; call 847-3511 ...