Kids' center in fast-track expansion
Officials want to start the expansion of the Hawaii Children's Discover Center's now before costs get too high -- even though they do not have all the funds.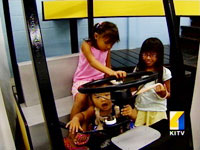 A place just for kids the center draws 100,000 visitors a year now plans to expand.
"We went out to bid, and we realized already the bids were coming in a little over our budget," said Loretta Yajima, president and chief executive officer of the nonprofit organization. "Some people might say it's foolhardy. Some say it's courageous. I say dream big."
The center has raised more than $3 million of the $5.4 million needed for its 9,000-square-foot expansion, and is still seeking more money.
The center gutted the city's old incinerator, turning it into a multistory play museum with interactive exhibits like mock houses from other nations to games.
Yesterday morning, Yajima unveiled a new Filipino household play area, along with the groundbreaking and blessing of the expansion.
The expansion would add space for educational camps, birthday parties and other functions separate from the main exhibit showroom. Currently there is only one special-events room at the facility.
"When we have a birthday party or a camp or an educational program ... then we can't have a traveling exhibit," Yajima said. "With the addition of new space, we can do all of it."
The center will also add a cafe area that will serve healthy snacks for families, she said.
The expansion is necessary because it caters to more people than it expected. It was expecting to serve about 60,000 children and their families a year but now serves close to 100,000 a year, including 11,000 students from its school group program.
Yajima said she is confident the group will raise enough money to complete construction by the end of this year. The center remains opens as construction continues.
"What I admire about the people affiliated with this center is that they have both courage and passion, the courage to move forward even when not everything's in place," said Gov. Linda Lingle, who attended yesterday's groundbreaking.