---
FAST FACTS HAWAII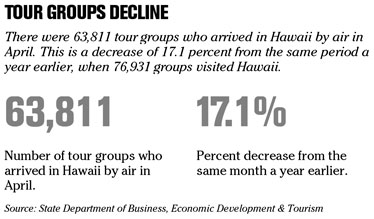 ---
HAWAII
Big Island newspaper folds
The issue of Hawaii Island Journal that hits Big Island streets tomorrow will be the alternative newspaper's last.
"I think our primary problem was simply finding solid sales reps on the Kona side," said Laurie Carlson, owner of Pacific Catalyst Publishing LLC, which bought the paper in 2005. It also owns the Honolulu Weekly.
Carlson said it "wasn't a helpful thing" that Nevada-based Stephens Media Group, owner of the island's two daily papers, started its own alternative paper about a year ago. They have much deeper pockets and they can run something that was heavily subsidized and we can't. It's a very sad thing."
Editor Peter Serafin was on vacation when he was notified on Monday, he said. He had just been notified over the weekend that after two previous rejections, the paper had been accepted as a member of the Association of Alternative Newspapers.
The small paper published three times a month, and its circulation was about 20,000, Carlson said. Of its four employees, one will be retained, for the classified section of Honolulu Weekly.
The paper's folding removes an independent news voice from the island that reported stories not found in Stephens' publications. "I think that's going to be the loss for the community and the readership," Serafin said.
Public radio to go dark on 2 isles
Hawaii Public Radio stations KKUA-FM 90.7 and KANO-FM 91.1 will be off the air from about 9 a.m. to 5 p.m. today, affecting listeners on Maui and the Big Island.
Maui Electric Co. informed HPR that it had to cut power to HPR's transmitter site at Ulupalakua, in order to upgrade its transmission infrastructure to television facilities at the same site.
"We have been assured by Maui Electric that power will be restored by 5 p.m. on Thursday the 12th at the very latest," said Michael Titterton, HPR president, in a statement.
HPR plans to install a back-up generator at the Maui site eventually and, in September, plans to power up an antenna for KIPO-FM 89.3 on Tantalus. At that site, "we will have installed a microwave relay that will serve KANO in Hilo directly, so that station will be completely independent of the Maui transmitter for KKUA," he said.
NATION
Anheuser gets $46B buyout bid
Anheuser-Busch Cos.
the nation's biggest brewery, received a $46 billion bid yesterday from Belgian brewer
InBev SA
that would create the world's largest beer company.
American boosts fuel fee to $150
DALLAS »
American Airlines
raised its fuel surcharge to $150 per round trip, a $20 increase, on many routes yesterday, just days after it failed in another attempt to raise fares.
Tim Wagner, a spokesman for American, said the surcharge applied on domestic routes except those where the carrier competes with low-fare airlines.
Delta Air Lines Inc. raised some fares by $20, according to travel Web site FareCompare.com, but a Delta spokeswoman said the airline had not matched American's broad increase by yesterday afternoon.
ATA blames FedEx for bankruptcy
ATA Airlines Inc.
filed a $180 million breach-of-contract lawsuit against
FedEx Corp.
, accusing the largest air-cargo shipper of forcing the carrier into bankruptcy by booting it from a U.S. military deal.
FedEx, which leads a team of airlines flying military charter flights, ousted ATA from the group in January in violation of a 2006 contract, ATA claimed in the suit filed yesterday in Federal Court in Indianapolis, where it is based. ATA filed a Chapter 11 petition April 2 and halted operations a day later.
U.S. military contracts generated about $400 million a year for ATA, according to the suit. Since 1983, ATA was one of the largest civilian transporters of military personnel and their families to and from deployments in the Middle East, Europe and Asia, the carrier said.
HAWAII INC.
New Hires/Promotions
» ResortQuest Hawaii has named
Douglas Rucker
general manager of The Whaler on Kaanapali Beach. He has 30 years of hospitality experience.

» AIG Hawaii executive vice president and chief operating officer
Ron Hashimoto
will be retiring from the company effective June 30, 2008. He joined the company in 2000 and will continue to serve the company in a consultant capacity. He has 40 years of insurance industry experience in Hawaii.
» Communications Pacific has announced the following promotions:
* Senior vice president
Kim Randall
has also been named managing director of marketing. She has 20 years of marketing experience.
* Creative director
Darrin Lin
has also been named senior vice president. He has 14 years of experience.
» Rehabilitation Hospital of the Pacific has announced the following restructured leadership positions:
*
Sue Ann Moriwaki
to vice president of finance and chief financial officer from vice president of finance.
*
Audrey Torres
to vice president and chief nursing officer.
*
Susan Fujita
to director of inpatient services from clinical specialist in speech therapy.
*
Lori Ho
to vice president of outpatient network from senior speech-language pathologist.
*
Terry Peacock
to director of marketing and referral development.
Board Elections
» Hawaii 3R's has elected two new directors to its board:
* Central Pacific Bank senior vice president and director of governmental relations
Roy K. Amemiya Jr.
* Hunt Development LP vice president of
Dev Braganza
.
» Sales & Marketing Executives International has elected
Richard Emery
of Hawaii First to its 2008-2009 board of directors. He was previously president of SMEI Honolulu and has held membership with the association since 1998.
» Hawaii Biotech has elected
Dr. Ian Frazer
to its Scientific Advisory Board. He is the director of the Diamantina Institute of Immunology and Metabolic Medicine, who has worked for 25 years in the development of vaccines to prevent human papillomavirus infection.
Awards/Certifications
» The Meeting Professionals International Aloha chapter has honored
Cheryl Williams
with its Founder's Award for her achievements as the chapter's first president and founder. She also serves as regional vice president of sales and marketing for Starwood Hotels & Resorts Hawaii and French Polynesia.
---
BUSINESS PULSE