Tired pilots raise alarm
NTSB officials consider fatigue as a cause of a wayward go! flight
Federal investigators are examining pilot fatigue as a cause for airline accidents in a hearing that offered new details about a Mesa Air Group Inc. flight that flew 15 miles beyond its Hawaii destination after the cockpit crew fell asleep.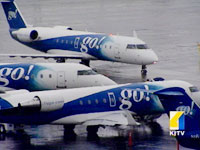 On Tuesday, the National Transportation Safety Board recommended to the F-A-A that airlines set up guidelines to prevent pilot fatique.
The go! pilots on the Feb. 13 flight, who didn't respond to controllers for 18 minutes, were on their third day of repeated early start times and "demanding sequences of numerous short flight segments," Jana Price, an analyst for the National Transportation Safety Board, said yesterday in Washington.
"It's an insidious issue," NTSB Chairman Mark Rosenker said. "Many times the pilots themselves don't even recognize that they are fatigued when they get into that cockpit."
The board, which investigates accidents including those involving airlines, has had pilot fatigue on its "most wanted" list of safety improvements since 1990. The NTSB is trying to highlight the issue again as record fuel prices increase pressure on carriers to cut costs.
Fatigue probably led to a Pinnacle Airlines Corp. runway overrun on April 12, 2007, in Traverse City, Mich., the NTSB concluded. The 52 passengers and crew members weren't injured in the accident, at the end of a 14-hour duty day by the pilots.
The go! flight from Honolulu, with 43 passengers and crew members, landed safely after the plane reversed course. The flight had been cruising at 21,000 feet when the pilots became unresponsive to controllers, according to the board, which is still investigating the incident.
Brian Gillman, general counsel for Phoenix-based Mesa, didn't immediately respond to telephone calls seeking comment.
Runway Overrun
The Pinnacle overrun "was the result of a series of actions and events involving multiple parties and rapidly changing weather conditions in an extremely short time," said Joe Williams, a spokesman for the Memphis, Tenn.-based airline. "We apologize for any impact on our customers."
A Shuttle America Corp. flight overran a snowy runway in Cleveland on Feb. 18, 2007. The NTSB later found the captain had insomnia, and he reported he had been awake 31 of the previous 32 hours, Price said. The 74 passengers and crew members weren't hurt in the overrun by the Republic Airways Holdings Inc. unit.
The board also cited a Corporate Airlines flight that crashed on Oct. 19, 2004, killing 13 people, after the pilots didn't follow procedures and flew the plane too low into trees. Fatigue probably contributed to the accident in Kirksville, Mo., the NTSB found.
The NTSB said the Federal Aviation Administration, which regulates airlines, should take steps such as continually assessing the effectiveness of carriers' efforts to reduce pilot fatigue.