Studies downplay risks from vog
Two recently released studies of vog on the Big Island found no evidence that emissions from Kilauea volcano have hurt residents' respiratory systems.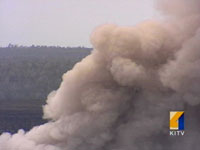 Some findings were released Tuesday by one of Hawaii's top researchers.
Both studies, however, were conducted before sulfur dioxide emissions jumped after a new vent opened at Halemaumau Carter on March 12, leading vog levels to drastically increase.
Dr. Elizabeth Tam, a University of Hawaii medical professor, said her data show there is no evidence that vog leads to increased asthma rates in children on the Big Island.
Her study shows asthma rates were higher in children living in areas with less vog. Twenty-three percent of the children who participated in the study had asthma.
Tam's analysis used data from 2001 and 2006. Tam said she recognized the air on the Big Island was much cleaner then compared with today.
Before the new vent opened, Kilauea summit emitted 200 tons of sulfur dioxide per day, but now the crater releases about 2,000 tons per day, Tam said.
Another study conducted by Dmitry Krupitsky in 2003 found that vog had no effect on the lung function of Hawaii Volcanoes National Park workers.
"The workers at the park are exposed more to vog than anyone else," he said. "That's why we decided to do the study on them."
Krupitsky, an asthma epidemiologist at the state Department of Health, used a device called an AM 1 (Asthma Monitor 1) to measure the how fast a person can exhale. Participants exhaled into the device three times in the morning and three times in the evening for three consecutive months.
"We couldn't detect any significant difference," he said. "The lungs seem to be fairly robust. There's not really any effects."
Krupitsky is currently looking for more funding to monitor the effects of vog on volcano park workers today.
According to the state Department of Health, vog is a term for volcanic smog that is caused by a combination of weather, wind conditions and volcanic activity. People with pre-existing respiratory conditions are more prone to be adversely affected by vog. Some symptoms people have complained of are headaches, sore throats, coughing and wheezing.
"We don't think volcanic air pollution causes asthma," Tam said.
For many, vog is more of an annoyance than a serious health problem.
While the long-term effects of vog are unknown, Tam said vog tends to get worse in the afternoon and it is better for people to do their outdoor activities in the early morning.
"Going indoors does cut the exposure to the vog," Tam said.