Suspect in fatal stabbing charged
Bail is $300,000 for Glenn Keohokapu Jr. in the Kaneohe killing
Honolulu police charged Glenn J. Keohokapu Jr. with second-degree murder yesterday in connection with a fatal stabbing outside a Kaneohe bar over the weekend.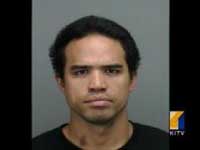 A Waimanalo man charged with murder in the death of a man witnesses called a good Samaritan had an extensive criminal record.
Witnesses told police Keohokapu, 35, stabbed 19-year-old Steve Wilcox early Sunday morning as Wilcox was trying to break up a fight between the suspect and Keohokapu's wife.
Keohokapu's bail is $300,000. He is scheduled to face the murder charge for the first time in court tomorrow.
One witness said Wilcox intervened after Keohokapu punched a female in the Club Komomai parking lot at Kaneohe Shopping Center, according to court documents. Another witness told police Keohokapu then challenged Wilcox to fight and said, "Come and I'll stab you."
The first witness said she was standing next to Wilcox when Keohokapu stabbed him, the court documents said.
Keohokapu's younger brother told police Wilcox began arguing with his brother, then took off his shirt before the two started fighting. He identified the woman as his brother's wife.
Keohokapu was supposed to be in Honolulu District Court on Monday morning to stand trial for a misdemeanor protective-order violation.
He didn't show.
Judge Rhonda Nishimura issued an $11,000 bench warrant for his arrest.
Police arrested Keohokapu on Monday evening in connection with the stabbing.
The complainant in the protective-order violation case, Keohokapu's wife, also didn't show for her husband's trial Monday. Deputy Prosecutor Kelli Lee mistakenly told the court Keohakapu's wife was traveling back from New York.
"That's the information we had," said Douglas Chin, first deputy prosecutor.
Kauilani S. Keohokapu filed for a six-month temporary restraining order against her husband March 11. In her application, she said her husband would variously choke, punch, slap, kick, hit, grab and shove her and force her to have sex whenever she confronted him while he was high on drugs and as she tried to leave the house.
Judge Linda Martell issued a three-month protective order that expired Monday. Neither party showed up for a March 24 hearing.
Police arrested Keohokapu on April 23 for allegedly violating the protective order. Judge Faye M. Koyonagi set aside Keohokapu's $1,000 bail and released him on his own recognizance the following day after he pleaded not guilty and asked for a jury trial.
On Dec. 7, Keohokapu completed a five-year prison term for two counts of third-degree drug promotion and possession of drug paraphernalia. His previous convictions include first-degree robbery, second-degree burglary and abuse of a household or family member.