Timeshares boost visitor housing stock
Visitors get more places to stay on islands
STORY SUMMARY »
A 21.3 percent spike in the number of timeshare units in Hawaii, primarily Maui, led to a 1.3 percent increase in Hawaii's total visitor accommodation units, a study released yesterday shows.
The state Department of Business, Economic Development and Tourism's 2007 Visitor Plant Inventory is a snapshot of accommodations available to Hawaii's visitors.
Timeshares have become increasingly desirable as global brands have helped clean up their image, according to Kelvin Bloom, president of ResortQuest Hawaii LLC.
---
FULL STORY »
Hawaii's visitor accommodation units grew by 1.3 percent from 2006 to 73,220 last year, a state report released yesterday shows.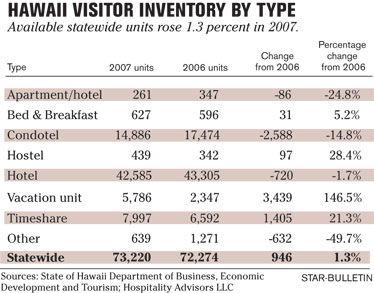 Leading the statewide increase was a 21.3 percent jump in the number of "purpose-built" timeshares, which excludes timeshares converted from another use, according to the report by the state Department of Business, Economic Development and Tourism.
Visitor accommodations include timeshares, apartment and hotel units; bed and breakfasts; condominium hotels; hostels; and individual vacation units.
The number of individual vacation units rose because the category now includes accommodations not previously counted or that were classified differently.
"In the past if you have, say, 10 or 20 units in a condominium that were rented out (to visitors), it would have been classified as a condominium hotel," said state economist Pearl Imada Iboshi. By the state's new definition, unless it has a receptionist and a front desk, it doesn't qualify as a condominium hotel.
There was a slight decrease in Oahu's visitor accommodations to 33,588, due mostly to Waikiki hotel rooms being taken out of service for renovation. Kauai saw the largest increase at 5.2 percent to 8,692 units, with individual vacation units increasing by 820.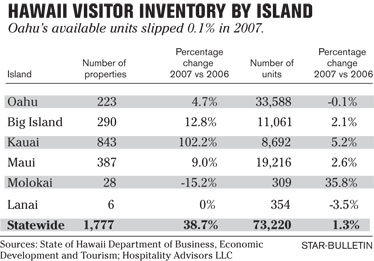 Maui's inventory grew by 2.6 percent to 19,216, driven mostly by new timeshare units in Kaanapali, and the Big Island's count grew 2.1 percent to 11,061.
"There's been very little change over a long period of time in the total number of visitor units in Hawaii," Imada Iboshi said. The state has been tracking the data since the early 1990s.
There has been an "enormous" amount of legitimacy brought to timeshares recently, said Kelvin Bloom, president of ResortQuest Hawaii LLC, which gets a small percentage of its revenue from timeshares.
"You have so many of the global brands that have brought cache ... to the industry," he said. Also, "when you have prepaid for a vacation and (the unit) is sitting there, you're much more inclined to take it as opposed to letting it burn."