Pedestrian's death shocks neighbors
The 84-year-old woman is identified as Florence Tamura
STORY SUMMARY »
An 84-year-old woman known as an avid walker died yesterday after she was pinned beneath the tires of a soft-drink delivery truck in Kahala.
Kaimuki residents reacted with shock when they heard that Florence Tamura was hit near the Kahala Chevron station.
"She was so healthy, healthier than I am," said Ann Kusatsu, 84.
Other neighbors recognized her distinctive white sun hat in a photo of the accident scene in yesterday's Star-Bulletin.
Chevron store manager and witness Troy Hotz said he sat with Tamura, who was conscious despite severe leg injuries, while they waited for help. She died later at the hospital.
---
FULL STORY »
Kaimuki residents were shocked to learn their longtime neighbor and friend was fatally injured when she walked into the path of a 10-wheel delivery truck yesterday morning.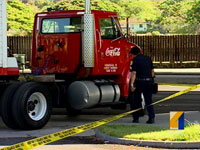 An 85 year old woman died late Tuesday after being critically injured Tuesday morning by a Coca Cola delivery truck.
The Medical Examiner's Office identified the woman as Florence Tamura, 84.
Neighbor Phyllis Yap, 82, said, "That's her hat," when she saw the white hat picked up by a police officer pictured on the front page of yesterday afternoon's Star-Bulletin. "She's always so careful."
Tamura, a widow, lived alone after her husband died several years ago and had no children of her own, according to neighbors, many having known her since the 1960s. Residents said she was an avid walker whose pattern was twice-daily excursions to keep fit, and always friendly and made time to say hello.
"She walks every morning and afternoon," said Kay Tamashiro, 83. "It's for her health. But I only joined her Sunday mornings when they would head to Zippy's for breakfast.
"Wow, I just can't believe it. Oh, my goodness. I always told her she'll live till 100 because she always takes good care of her health," Tamashiro said.
Police determined Tamura was walking toward the commercial delivery truck, owned by Coca-Cola Bottling Co. of Hawaii, as it was pulling out of the Kahala Chevron Station.
About 8:40 a.m. yesterday, the truck was pulling out of the station at 4117 Waialae Ave. The truck had just finished a delivery and was going to head east on Waialae Avenue.
The tractor-trailer's rear right wheel hit the woman who was crossing the driveway and pinned her underneath it, said Chevron store manager and witness Troy Hotz.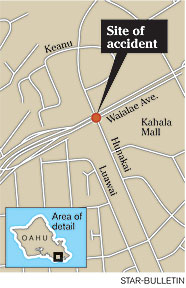 "I ran over there to stop the truck," he said. "Obviously, the driver heard something, too, and just barely pinched her with the second wheel."
Hotz said the 37-year-old driver, whom he said is a regular driver for the station, reversed to get the tires off the woman. Hotz said he sat with the woman, who was conscious but had severe injuries to her legs.
"She actually said something, but I can't remember what it was," Hotz said near the store. "I came over here and cried a little bit."
Tamura was taken in critical condition to the Queen's Medical Center, where she later died.
A visual obstruction for the driver may have been a factor, said police Sgt. Daniel Kaholokula of the vehicular homicide section.
"That's a big truck," Hotz said. "You can't see over the front. He does this route every week, so he's pretty familiar with what needs to be looked around."
Hotz said in his 15 years working at the station, he had never seen an auto-pedestrian accident in the area. His wife came to the station to comfort him because he was distraught from the accident.
"I gotta try and get back to my routine, if I can," he said before he wheeled in boxes of bottled water that were just delivered by the Coca-Cola truck.
Tamura's Ekaha Avenue neighbors knew her routine and looked forward to having conversations with her as she stopped by while on her walks to the market.
Ann Kusatsu, 84, said she expected Tamura would stop for a chat on her afternoon walk yesterday. "Today I didn't see her," said Kusatsu, who had been out watering her front yard till 5 p.m.
Neighbors said Tamura planned a trip in the fall to Las Vegas, where she enjoyed lunch at the Bellagio.
Kusatsu said Tamura loved Vegas because she told her she was tired of cooking.
Next-door neighbor Janice Bellmore was "shocked because she's an alert person, very careful when she's walking," she said. "She must have thought the truck driver saw her, but she was very tiny person," who was "very vital" and "very proactive about taking care of her health."
Neighbor Gayle Tomokiyo said, "She was a petite woman, always jovial."