Family mourns stabbing victim
Steve Wilcox, 19, tried to intervene during a dispute between a man and woman
Steve Wilcox was fatally stabbed Sunday morning after trying to intervene in a dispute between a man and woman at a Kaneohe bar, police said.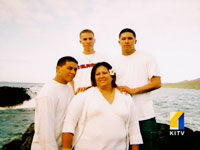 Honolulu Police are still searching for a suspect in connection with a fatal stabbing over the weekend
The two men got into a fight in the parking lot of Club Komomai and Wilcox, 19, was stabbed once in the chest with a pocketknife. The Medical Examiner's Office said Wilcox died of a single stab wound to the chest.
Police arrested Glenn J. Keohokapu Jr., 35, at his Waimanalo home about 7 p.m. yesterday for investigation of second-degree murder.
Keohokapu has 15 previous criminal convictions, including six felonies. His latest conviction was in April 2003 for drug charges. He was sentenced to two years in prison. In 1995 he was found guilty of second-degree robbery and was sentenced to a year in prison and five years probation.
Other convictions include burglary, assault, family abuse and shoplifting, his earliest conviction dating back to 1992.


Glenn J. Keohokapu Jr.: The suspect has 15 previous convictions, including six felonies
Wilcox, also of Waimanalo, was remembered by his family as a caring man who loved to make people laugh.
Shane Wilcox felt closer to brother "Big Steve," the eldest of triplet brothers, than anyone.
So his loss hurts that much more.
"We feel the same thing sometimes," Shane Wilcox said. "But I never felt nothing that night."
They golfed the whole day Saturday, and Steve asked Shane to take his golf clubs home.
Wilcox never came home.
"It hurts," Shane Wilcox said. "We look alike, we was one tag team. Sad. Unbelievable. I still no believe."
Middle triplet Shaun Wilcox, a youth pastor, learned of his brother's death at church Sunday, after delivering a sermon in which he shared a story about how he and his brothers would wash each others' feet before entering the house when they were younger.
"This only makes us stronger knowing that we have a 24/7 angel looking down on us now," he said.
Smiling, he said, "I know that God is going to take care," he said. "If I could just meet the suspect, I'd give him a hug and love on him because I know his family is hurting just as much as ours."
Grandmother Marie Epil said the family bears no ill will against the suspect. "We just love everybody. We have no feeling to retaliate."
"We'll just leave it up to his hands," she said as she glanced to the heavens with eyes full of tears.
She describes her grandson as a "very loving person. He's a jolly guy, loves to make people laugh. He was the life of the party."
Cousin Nani Kailihiwa, 26, said: "He always helped out everybody. ... If people was arguing, he would jump in and try to make them laugh instead of arguing."
Cousin Sharlani Kailihiwa, 27, said Wilcox "would always make sure he had everything taken care of before himself. He was there to comfort us when our father died. ... He would be the problem-solver. He knows how it is because he had one rough life. He was the superstar. ... the hero."
The family plans to bring up with the Honolulu Liquor Commission the fact that the bar, Club Komomai, allowed Wilcox, who is underage, inside.
Shane Wilcox said: "I like this be one wake-up call for everybody, for bars. If they went ID him, he wouldn't have been in there and none of this would have happened." Wilcox is also survived by mother Gwen Kailihiwa, and sisters, Shantel, 22, and Steffeny, 14.
Star-Bulletin reporter Gene Park contributed to this story.