Fourth season of 'Five-0' Zulu's last
"Hawaii Five-O: The Complete Fourth Season"
(Paramount Home Entertainment, six discs, $49.99 retail)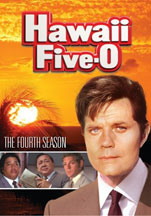 The 1971 season of "Hawaii Five-O" comes out on DVD today, noted for the fact that the fourth season was the last in which the late Zulu played the part of Kono Kalakaua.
The "Five-O" Web fan site -- www.mjq.net/fiveo -- says that the episode "Cloth of Gold" was one of Zulu's favorites, with Kono and Danny (James McArthur) investigating the deaths of three sleazeballs -- due, we later learn, to highly toxic shellfish. Other highlights:
"Highest Castle, Deepest Grave": An archaeological dig turns up the bodies of a man and a woman who were murdered a decade earlier. With a strong guest cast that includes Herbert Lom, France Nuyen and Jeff Corey.
"Nine, Ten, You're Dead": The late, great Moses Gunn plays an ex-boxer who breaks the hand of a promising young fighter to save him from a life in the mob. The mob boss and a hit man arrive from the mainland to look for the old guy.
Buddy Ebsen, John Ritter, Loretta Swit, Donald Pleasance and Barry Sullivan are among noted guest stars, and local viewers should also recognize Glenn Cannon, Herman Wedemeyer, Danny Kamekona, Al Harrington, Moe Keale, Eddie Sherman, Les Keiter and the late Lippy Espinda and Bill Bigelow.
As in previous volumes, the only special features are network episode promos.