---
FAST FACTS HAWAII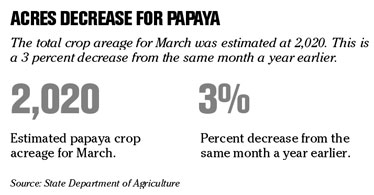 ---
HAWAII
Hawaiian Air traffic jumps 26.2%
Hawaiian Airlines
, benefiting from the shutdown of Aloha and ATA airlines, saw the number of passengers it carried systemwide jump 26.2 percent in May to 740,865 from 587,017 a year ago.
The state's oldest carrier, which increased its capacity, or available seat miles, by 4.6 percent, saw its load factor, or percentage of seats filled, slip 0.9 points to 85.7 percent from 86.6 percent. Available seat miles totaled 812.2 million from 776.6 million a year ago. Revenue passenger miles, or one paying passenger transported one mile, rose 3.5 percent to 696.2 million from 672.7 million.
Castle & Cooke opens airport site
Castle & Cooke Aviation
is opening its new fixed-base operation at Honolulu Airport today.
The company, which acquired the former Circle Rainbow last year for an undisclosed price and invested more than $5 million in renovations, offers jet services, jet aircraft fuel and pilot amenities.
Maui General sells large stake
Maui General Store Inc.
said yesterday that Chinese investors Fu Qiang and Su Jianping have acquired 90 million shares of its common stock, representing 64 percent of the outstanding shares. Under the buyout, Fu Qiang, chief executive of China-based
Heilongjiang Hairong Science & Technology Co., Ltd.
will replace Richard Miller as CEO and chief financial officer. In the next month, Maui General also will acquire control of Hairong, which designs and implements information technology networks and software.
Hana-based Maui General is defined as a shell company, or a company that has no assets or operations, under Securities and Exchange Commission filings.
Kona hotel renovations to start
The King Kamehameha Kona Beach Hotel is about to begin its first major face-lift in its 33-year history.
The 460-room hotel, acquired by California-based Pacifica Hotel last June, will undergo up to $35 million in renovations starting July 1. The hotel will upgrade its plumbing and electrical systems, renovate its lobby, pool and outfit the rooms with new furnishings, carpets and bathrooms. Since only one tower will be renovated at a time, the hotel will remain open for business.
---
BUSINESS PULSE