Summer Reading Program provides poetry, plot twists and prizes
School being out doesn't mean kids should stop reading. Hawaii's public libraries emphasize this point with their annual Children's Summer Reading Program.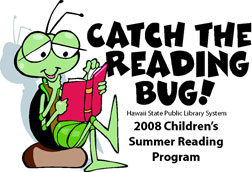 The five-week program launches today at most libraries statewide.
"Catch the Reading Bug" is the theme for children from infancy up to entering sixth-graders. Highlighted books feature stories about insects, bugs and creepy-crawly creatures.
For teens the theme is "iREAD," with an emphasis on books about technology, innovation and ingenuity.
How it works: Visit the library once a week, read at least one book per week and earn a prize. In addition, five younger readers will win $50 bookstore gift cards. Teens may enter a drawing for $1,000, $500 or $250 back-to-school shopping sprees at Pearlridge Center (enter by Saturday).
Visit www.librarieshawaii.org or call your local library.
As part of the Summer Reading Program, several special guests will visit the libraries.
Bishop museum scientist and Entomology Collections Manager Shepherd Myers and intern Shar Hashimoto will introduce students to entomology:
» Next Monday: 10:30 a.m. at Kapolei
» June 17: 10:30 a.m. at Waipahu, 2 p.m. at Aiea
» June 18: 10:30 a.m. at Kahuku
» June 19: 3 p.m. at McCully-Moiliili
» June 21: 10 a.m. at Waialua
» June 22: 1 p.m. at Kaimuki
» June 23: 10:30 a.m. at Wahiawa
» June 24: 2 p.m. at Salt Lake-Moanalua, 7 p.m. at Liliha (587-7577)
» June 25: 10:45 a.m. at Ewa Beach
» June 26: 10:30 a.m. at Hawaii Kai
» June 27: 10:30 a.m. at Aina Haina
» June 28: 10:30 a.m. at Kailua
» June 29: 2:30 p.m. at Kaneohe
» July 1: 9 a.m. & 10:30 a.m. at Kalihi-Palama (832-3466)
» July 12: 11 a.m. at Hawaii State Library, Edna Allyn Room (586-3510)
Todd Sammons, English literature professor at the University of Hawaii at Manoa, will lead a discussion on Ralph Fletcher's "Fig Pudding." Free copies will be available at participating libraries in advance.
» Today: 1 p.m. at Pearl City
» Thursday: 6:30 p.m. at Wailuku
» June 17: 5:30 p.m. at Kailua-Kona
» June 19: 6:30 p.m. at Hawaii State Library
Niall de burca, a storyteller from Dublin, Ireland, will present Irish stories, legends and folk tales
» June 19: Lahaina at 10 a.m., Makawao at 3 p.m., Wailuku at 6:30 p.m.
» June 20: Kahului at 10:30 a.m., Kihei at 3:30 p.m.
» June 21: Kailua at 10:30 a.m., Hawaii State Library at 1 p.m.
» June 22: 2:30 p.m. at Kaneohe
» June 23: 2:30 p.m. at Waimea
» June 24: 10 a.m. at Molokai
» June 25: Aina Haina at 10:30 a.m., Mililani at 6:30 p.m.
» June 26: Waianae at 10 a.m., Kapolei at 3 p.m., Aiea at 6:30 p.m.
» June 27: 10:30 a.m. at Salt Lake-Moanalua
» June 29: 1 p.m. at Kaimuki
» June 28: 10 a.m. at Kailua-Kona