---
FAST FACTS HAWAII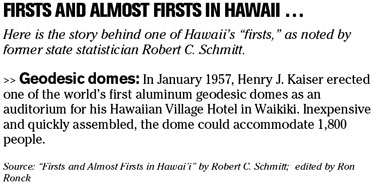 ---
NATION
Learn how to use AED machine
We all want to help victims of cardiac arrest. But we don't know how, and we're scared of making the situation worse.
An American Heart Association survey said 89 percent of adults were would help out if they saw a medical emergency. But more than a quarter said they weren't sure when to use cardiopulmonary resuscitation, or CPR, and almost half said they didn't know when it was appropriate to use an AED, a portable machine which can shock a heart attack victim back into a regular heartbeat.
"Even if you haven't used one, people should feel like they could use the AED," said Dr. Lance Becker, AHA spokesperson. "One, get the AED. Two, open it up and start it. After that, it talks you through everything."
To best help a heart attack victim, don't stress about mouth-to-mouth if you feel uncomfortable. First call 911, then use hands-only CPR -- chest compressions -- and don't be afraid of the AED if it is available.
"We know of people whose lives have been saved and had CPR from a person who'd never been trained," said Becker. "The important thing for the public to realize is that in their two hands is the opportunity to double or triple the survival rate."
The AHA conducted the online survey of 1,100 adults in January 2008.
Many think traffic has worsened
Almost two-thirds American drivers, gnashing their teeth at surging oil prices and stressed by congestion, say they feel traffic has gone from bad to worse in the past three years.
In a recent survey, drivers reported increased stress levels, anger and a negative effect on work or school performance because of irksome traffic. And 12 percent said commuting was cutting into their sleep time.
In a "Pain Index" derived from the drivers' survey scores, Los Angeles was the worst-scoring city, followed by Atlanta and Miami. Minneapolis-St. Paul, Minn., and Boston were the most benign of the 10 cities indexed. The Dallas-Fort Worth area, Chicago, San Francisco, New York and Washington were the other cities measured.
The most-listed annoyances were start-stop traffic (37 percent) and rude or aggressive drivers (24 percent). And some found driving so annoying as to be impossible. At some point in the past three years, said 27 percent, traffic was so bad that they gave up on their errand or drive to work and turned tail for home.
IBM Corp. conducted the online survey of 4,091 adult commuters from 10 U.S. cities in May.
Hey bosses, look out below!
Here's a tip for bosses: Look out below!
Researchers have found that at least a fifth of workers engage in activities aimed at making their supervisors look less than stellar.
One reason is revenge, a pleasure-seeking desire to see supervisors they don't like embarrassed or punished, said Paul Harvey, a management professor at the University of New Hampshire. Another is "more calculated and goal-oriented." Workers may see bosses as roadblocks to their own advancement.
"In both cases, we think the fact that employees do not typically possess the power to punish their bosses by traditional means (firing) causes them to resort to" devious and undermining behaviors, said Harvey, summing up findings of the study, co-authored by Marie Dasborough of the University of Miami.
Undermining techniques included spreading rumors about their bosses or trying to sabotage their work.
"Just under 20 percent of the employees in our sample of 238 people admitted to engaging in these behaviors at least occasionally," said Harvey.
---
BUSINESS PULSE