Earmarks remain part of culture in Congress
Public criticism fails to stop Congress from approving nearly $15B on pet projects
>>
'King of Pork' also delivers isle perks
STORY SUMMARY »
So much for trimming the pork.
Congress passed pet projects totaling nearly $15 billion last year, continuing the practice of earmarking by inserting projects not sought by the president. This despite public outrage over abuse that upended control of Capitol Hill two years ago.
Congress has been hit with publicity about wasteful earmarks, and a small number of lawmakers have come under Justice Department scrutiny over earmarks. Reports from various newspapers show it's a pay-to-play sandbox where waste and abuse often obscure the good that earmarks can do.
---
FULL STORY »
WASHINGTON » The practice of decorating legislation with billions of dollars in pet projects and federal contracts is thriving on Capitol Hill -- despite public outrage that helped flip control of Congress two years ago.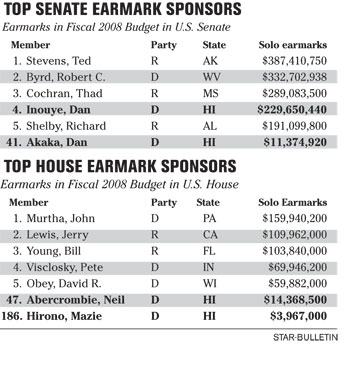 More than 11,000 of those "earmarks," worth nearly $15 billion in all, were slipped last year into legislation telling the government where to spend taxpayers' money this year, keeping them at the center of Washington's culture of money, influence and politics. Now comes an election-year encore.
It's a pay-to-play sandbox where waste and abuse often obscure the good that earmarks can do.
An examination of many of those earmarks by the Associated Press and two dozen newspapers participating in a project sponsored by the Associated Press Managing Editors found much greater disclosure since 2006 but no end to what has become ingrained behavior in Congress. Assisting the project were two nonprofit and nonpartisan watchdog organizations -- the Sunlight Foundation and Taxpayers for Common Sense.
Millions of the dollars support lobbying firms that help companies, universities, local governments and others secure what critics like Republican presidential candidate John McCain call pork-barrel spending. The law forbids using federal grants to lobby, but lobbyists do charge clients fees that often equal 10 percent of the largesse.
Earmark winners and their lobbyists often reward their benefactors with campaign contributions. For many members of Congress, especially those on the Appropriations committees, such as Rep. John Murtha, D-Pa., campaign donations from earmark-seeking lobbyists and corporate executives are the core of their fundraising.
Rules forbid lawmakers from raising campaign funds from congressional offices, but members and their aides sometimes find ways to skirt them.
"I know a bunch of members that if you go in to see them, somewhere in the conversation they somehow say, 'Well, we were looking through our list of campaign contributors and didn't happen to see you there,'" said Frank Cushing, a lobbyist with the National Group, which lobbies on appropriations bills. "Is there a quid pro quo? No, not directly, but you'd have to be pretty dense not to figure it out."
For all the outcry, most earmarks have much to commend them. Just because a lawmaker arranges a project for his home district doesn't mean it isn't worthy.
Anti-pork watchdogs, however, point to examples like the $1.8 million in five earmarks for Chicago's Shedd Aquarium, which ran $8 million in the black last year and has embarked on a four-year, $100 million fundraising campaign. With that kind of money, why should taxpayers fund a $400,000 program earmarked by Democratic presidential candidate Barack Obama to help the aquarium conduct a program aimed at preventing juvenile delinquency, watchdog groups ask.
Congress disclosed 11,234 earmarks totaling $14.8 billion in bills covering government spending this year, according to Taxpayers for Common Sense, a Washington-based watchdog group. The White House puts the total at $18 billion, including the amounts that lawmakers added to what President Bush sought for specific projects.
A new earmarking cycle begins this month as the House and Senate Appropriations committees reveal spending bills for the 2009 budget year that starts Oct. 1.
Defenders of earmarks note that the Founding Fathers explicitly gave Congress control over spending. And earmarks make up less than 2 percent of the annual spending bills passed each year.
"Representatives can better judge their districts' needs than some bureaucrat," Rep. Nancy Boyda, D-Kan., wrote her constituents this year.
Exposing the earmark process
The House and Senate in 2007 implemented reforms aimed at adding transparency to the process of earmarking projects, grants and contracts in legislation.
The House:

» Requires any bill containing earmarks be accompanied by a list identifying each one and the member(s) who requested it.
» Requires a letter from the representative who requested an earmark to provide a letter identifying the earmark and the entity to receive the funds, along with a certification that neither the requesting member nor their spouse would benefit financially.
» Prohibits earmarks from being used to influence other members.
The Senate:

» Requires disclosure of earmarks and their sponsors, but it does not require public disclosure of the entities receiving them.
» Prohibits senators from advocating for an earmark in which they might have a financial interest.
Offer an earmark, get a contribution
Examples of lawmakers who have sponsored earmarks for private companies and received campaign contributions from them and, in some cases, their lobbyists:

Rep. David Hobson
, R-Ohio, a member of the House defense appropriations subcommittee, obtained a $2.4 million earmark last year for the Greentree Group of Beavercreek, Ohio, for a digital information sharing system. Greentree Group executives, their families and consultants have donated $43,350 to Hobson since 2000, reports the Columbus Dispatch.
Rep. Tim Holden, D-Pa., earmarked $3.2 million to Reading-based Fidelity Technologies for the Call for Fire Trainer, a training simulator to help "forward observers" conduct calls for fire missions. The family of its founder, Jack Gulati, has contributed $10,000-plus to Holden's re-election campaigns over the past six years. Employees of Fidelity's lobbying firm, PMA Group, have donated $63,225 to Holden campaigns since 2002, the Allentown Morning Call reports.
Rep. Jack Kingston, R-Ga., won a $1.6 million earmark last year for Engineering and Software Systems Solutions Inc. for advanced coating technologies. Kingston has received more than $20,000 in campaign contributions this election cycle from company executives and their wives.
Rep. George Miller, D-Calif., delivered a $1.6 million for SecuriMetrics Inc., which manufactures biometric identification devices that use iris, fingerprint and facial recognition technology. Employees of SecuriMetrics Inc. have donated $16,090 to Miller and his political action committee since 2004, the Contra Costa Times reports.