BOOKSHELF
Isle Pages
New releases from Hawaii authors
"No Footprints in the Sand: A Memoir of Kalaupapa"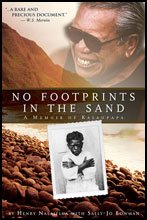 By Henry Nalaielua and Sally-Jo Bowman
(Watermark, 2006, $15)
Kalaupapa resident Henry Nalaielua and writer Sally-Jo Bowman will appear in a free two-hour talk-story session based on Nalaielua's memoir at 6 p.m. Thursday at the Sheraton Princess Kaiulani Hotel's Pikake Terrace lobby.
Nalaielua was diagnosed with Hansen's disease in 1936, when he was 10. He grew up at Kalaupapa on Molokai and continues to live there. The book chronicles the physical challenges he had to face and his journey to become an artist, musician and historian.
The book will be sold at the event, and Nalaielua and co-author Bowman will sign copies.