Blaze damages 2 houses in Ewa
Honolulu firefighters evacuated a 61-year-old man from a three-alarm fire that gutted a house and heavily damaged a neighboring home last night in Ewa.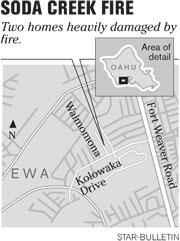 Fire spokesman Capt. Robert Main said the man was in a front room of the home at 91-984 Waimomona Place but was unable to get out because personal belongings blocked his way.
Firefighters found the man 3 feet from the front door. He refused treatment by paramedics.
Fifty firefighters battled the fire, which was reported at 9:02 p.m. The fire was under control by 10:15 p.m. Eight engine companies and three ladder trucks responded to the fire, which was fully involved when firefighters arrived.
The fire was upgraded to three alarms and a mobile command center was sent to the scene.
Linda, a neighbor who wouldn't give her last name, said an elderly woman was rescued from the neighboring home that was heavily damaged.
She said her son noticed a small fire between the two houses about two hours before the fire started. She said her son thought it might have been a barbecue because it didn't grow in size.
The American Red Cross was assisting the residents displaced by the fire.