Farmers feel parched by isles' dry weather
STORY SUMMARY »
|
READ THE FULL STORY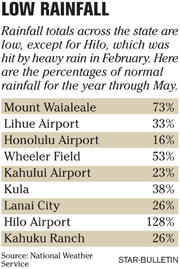 From the slopes of Haleakala on Maui to the fields of Kamuela on the Big Island, farmers are seeing dry weather due to a lack of tradewinds and tradewind showers.
National Weather Service forecasters say the first five months of the year have been dry, and predict the summer will not provide any relief for farmers.
Waimea and Molokai farmers and residents in Kilauea, Kauai and central and south Maui have been asked to cut back water use, while Waimanalo farmers have asked for reductions to stretch the water supply over the dry summer.
STAR-BULLETIN
---
FULL STORY »
KULA, Maui » On the slopes of Haleakala, Maui farmer Ralph Inouye feels a warm breeze rather than the typical cool Upcountry air as he looks at a dry, fallow field.
"It's warmer here, doesn't rain like it used to. The weather pattern is changing," said Inouye, whose family has farmed in Kula for 75 years.
The lack of tradewinds and tradewind showers in May led to another dry month, on average, across the state, according to data released this week by the National Weather Service.
And with a drier-than-normal summer forecast, there is little relief in sight for farmers already suffering from a lack of rain, climate experts said.
For the first five months of the year, rainfall in Kula is 38 percent of normal, Kamuela on the Big Island is at 34 percent, Lihue is below 40 percent and Waimanalo is at 27 percent, according to the weather service.
Even the wettest spot in the state, Mount Waialeale, received only about 73 percent of its normal rainfall total.
"We're not looking for any major rain-producing system until October," said Kevin Kodama, a weather service hydrologist in Honolulu.
Kodama said tradewinds might still bring some showers to the windward side of the islands and Kona on the Big Island.
A breakdown in the tradewind system in March and April is partially to blame for the drier-than-normal conditions, Kodama said.
Farmers using state agricultural water in Waimea on the Big Island and on Molokai are being asked to voluntarily reduce their use by 10 percent.
In Waimanalo on Oahu, farmers anticipating a dry summer asked and received the order for a mandatory cutback of 20 percent.
"They requested it because they understand in order to have water throughout the summer, it's better to start early," state agriculture spokeswoman Janelle Saneishi said.
County water officials on the Big Island asked for a 10 percent voluntary reduction in water usage for Waimea, North and South Kohala, North Kona and Kau.
North Kauai residents in eastern Kilauea are also being asked to conserve.
Central and South Maui residents have been under a voluntary reduction of 10 percent since Aug. 23, and Upcountry Maui nonagricultural users were asked to voluntarily reduce their use by 5 percent.
Maui water spokeswoman Jacky Takakura said little water is flowing into the upper reservoirs in Upcountry Maui, and officials have had to pump water from lower elevations.
Maui farmer James Jones, owner of a wholesale plant nursery, said he is expanding his business by 2.5 acres at the county agricultural park in lower Kula.
Jones said he would have a problem if the county were to ask for a reduction in water usage for farmers, especially since he has taken out a loan.
Maui onion farmer Inouye said the weather turned rainy for a couple of days three weeks ago, destroying much of his crop.
"Farming's a gamble," he said.