| | |
| --- | --- |
| | Newswatch |
---
Lanai cracks $5 gasoline mark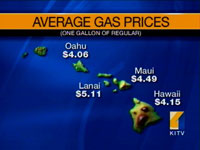 The price of gas jumped from $4.71 a gallon to $5.11.
The shock of $4 per gallon gasoline has not worn off, and here comes the next benchmark.
Regular unleaded gasoline was sold for $5.11 per gallon yesterday on Lanai, up from $4.71 Thursday.
Premium-grade gasoline was $5.18 per gallon, and diesel fuel was $5.16.
Mike Lopes of Lanai City Service said he expects the price of diesel to go to $6.15 next week.
Bill would let taxi fares increase
Taxi fares could go up to help drivers deal with the skyrocketing costs of gas, according to a bill passed Wednesday by the City Council.
The bill would allow drivers to charge a fuel surcharge determined by the city. Every six months, the city would calculate any changes to the surcharge based on average fuel prices.
If Mayor Mufi Hannemann allows the bill to become law, it could go into effect as early as next month.
The city might also increase taxi meter fares for the first time since November 2005.



| | |
| --- | --- |
| | Police, Fire, Courts |
---
HONOLULU
Suspects sought in freeway gunfire
Police are looking for suspects after a car with two people in it was shot at early Thursday on the Moanalua Freeway.
Police said that at about 4:30 a.m. a 19-year-old man was driving Waianae-bound near the Puuloa Road offramp when shots were fired at the car. At least one bullet hit the car, police said.
Neither the driver nor an 18-year-old male passenger was hurt.
Police said the incident might have stemmed from an argument at a bar between the two men and another group of men.
LEEWARD OAHU
Examiner identifies dead motorcyclist
The Medical Examiner's Office identified yesterday a 27-year-old man who died Thursday night after his motorcycle broadsided a car in Ewa as Derek Francis of Ewa Beach.
Francis was riding his motorcycle at a high rate of speed makai on Keaunui
Drive, toward the Noelo Street intersection, at 10:15 p.m. when a car attempted to make a left turn, police said.
The motorcycle broadsided the four-door sedan, and Francis was wedged beneath the car.
He was pronounced dead at the scene at 11 p.m., said Emergency Services Division spokesman Bryan Cheplic.
The sedan's front-seat passenger, a 17-year-old Ewa girl, suffered minor head injuries and was taken to the Hawaii Medical Center West in guarded condition.
Four other teenagers in the car were taken to the hospital for examination but were not injured.
Police said the motorcyclist's speed was a factor in the fatal crash. Francis was not wearing a helmet.
NEIGHBOR ISLANDS
Puna man facing meth charges
Big Island prosecutors charged a 38-year-old Puna man with drug trafficking Thursday after officers allegedly found crystal methamphetamine on his property.
Bill Shane Vierra is charged with first-degree meth trafficking, possession of drug paraphernalia and promoting a detrimental drug.
He was released after posting $12,500 bail.
Police said neighbors made numerous complaints about drug dealing at a house on 40th Avenue in the Orchidland subdivision in Puna.
On Wednesday night at 6:50, officers served a search warrant at the property and found about four ounces of crystal meth, 41.5 grams of dried marijuana and $2,600 in cash.
Officers arrested Vierra along with four other men, ages 42, 21, 20, and 33, all of Keaau. Those men were released pending investigation.
Coast Guard aids in rescuing woman
The Coast Guard assisted yesterday in the rescue of a 50-year-old woman who ran into trouble while snorkeling about a mile offshore of Maui.
The woman was snorkeling with the motor vessel Quicksilver when she was found unresponsive at about 9 a.m., a Coast Guard official said.
A Quicksilver crew member performed cardiopulmonary resuscitation on the woman aboard the vessel and revived her, the Coast Guard said.
A small boat from a Coast Guard station at Maalaea Harbor met the vessel en route to Kihei Boat Ramp and helped the woman to shore where an ambulance was waiting.
The woman was conscious but her condition was not released, the Coast Guard said.
Firefighters handle Molokai brush fire
A fast-moving brush fire came close to a home in West Molokai yesterday but was contained by firefighters and Maui County Public Works crews.
No property damage was reported in the fire, which burned 80 acres near Kaluakoi.
The Maui County Fire Department helicopter was dispatched from Kahului to drop water on the blaze.
Deputy fire Chief Robert Shimada said 20 Molokai firefighters and nine public works employees fought the fire.
The public works crews graded a firebreak to prevent its spread.
The blaze was reported at 9:26 a.m. and was considered contained by late afternoon.