Maui home market keeps cool
Maui's residential real estate market continued its downward trend, with both the number of sales and prices dropping in May.
The median price of a home on Maui dropped 13.6 percent to $565,000 last month, compared to $653,746 a year ago, according to the latest statistics from the Realtors Association of Maui.
Despite the drop in prices, only 95 homes were sold in May, six less than the same month a year ago. The number of homes sold, however, were an improvement over April, when only 76 changed hands.
Terry Tolman, chief staff executive of the Realtors Association, said since the peak of the market in summer 2005, Maui's monthly numbers have bounced up, down and sideways - with a continuing, general cooling trend.
---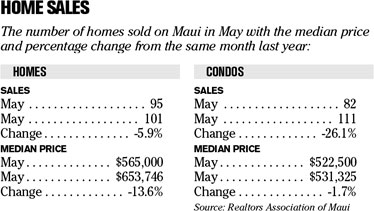 ---
"Many mainland markets have suffered and that filters down to the Maui market," Tolman said.
In the condominium market, median prices slipped 1.7 percent to $522,500 last month, and only 82 were sold, 29 less than in May of 2007.
He added that active inventory of both homes and condos is" somewhat less" than the prior few months.
As of May 7, there were 1,132 active home listings, compared to 1,148 in April and 1,169 in March. There were 1,535 condo listings compared to 1,569 in March.
Total average days on the market are also stretching, to 185 days for homes, the highest it's been so far this year. Condos were on the market an average of 136 days.
The total dollar volume of single-family homes sold on Maui, to date, is at $366.7 million, a 30.3 percent drop from the same period a year ago. To date, a total of 399 homes have been sold on Maui, 139 less - or a 25.8 percent drop - compared to the same period a year ago.
Tolman said buyers still have plenty of options due to continued low interest rates, and that more "short sales" and foreclosures are hitting the marketplace.
Sellers, on the other hand, must beat the competition with careful pricing, flexible terms and in some cases, advance inspections and surveys.