Appeals for answers
Police search for drivers in two fatal hit-run accidents
Police want help finding drivers in two hit-and-run cases, one that killed an elderly pedestrian Wednesday night in Iwilei and another that killed an Air Force officer near the airport in November.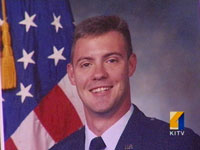 Police looking for driver.
The November incident is one of four fatal hit-and-run cases last year and one of two that remains unsolved.
Suzanne Jackson, whose husband, Air Force Lt. Col. John Jackson, was killed in the November crash, made a public appeal yesterday for information about the driver.
At about 2:30 a.m. Nov. 10, Jackson's motorcycle broke down on Nimitz Highway near Camp Catlin Road. He was in an Ewa-bound lane.
Jackson called his wife, Suzanne, and 18-year-old son, Michael, to help him. At 3:42 a.m., Jackson and his son were attaching a motorcycle trailer to the back of their 1996 Ford Mustang when a 2002 Chevy Astrovan hit them, breaking the son's pelvis and killing Jackson.
The Astrovan stopped, and a man and a woman got out and fled on foot. Police have interviewed the registered owner of the vehicle, who is not cooperating with the investigation.
Police Sgt. Kim Buffett said the Police Department's legislative liaison office is drafting proposed legislation to somehow hold registered owners criminally liable for their vehicles, except when they were stolen.
Suzanne Jackson said she does not live a day without hearing her bloodied husband's dying breaths and her son screaming in pain.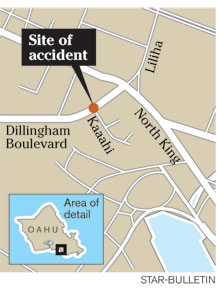 She said through tears that it is a nightmare "to decide which one to be with."
Her husband, she said, was scheduled to deploy to Iraq in May "to protect people's rights," adding, "He had rights, too, but he won't get any justice."
Jackson said she hopes to get some closure because her family is moving to Colorado Springs, Colo., soon to "start over." Her son is recovering from his injuries. John Jackson is also survived by 16-year-old daughter Breeanna.
Wednesday's incident is the first fatal hit-and-run case this year. At about 9 p.m. a 79-year-old man crossing Dillingham Boulevard outside a crosswalk was hit on the knee by a sport utility vehicle traveling in the Ewa direction near Kaaahi Street.
Police said the impact caused him to fall into the path of another vehicle, which dragged him about 30 feet before stopping.
The SUV, driven by a man with black spiky hair, stopped momentarily and then fled, police said.
The victim suffered severe head and torso injuries and died at 12:51 yesterday morning at the Queen's Medical Center. The Medical Examiner's Office cited blunt force injuries to the head and torso. The victim's name was not released as of this morning.
The female driver, 28, and a bystander were the accident's only two witnesses. Buffett said the driver did not get a good look at the male driver, and the bystander was too shocked at seeing a man dragged by a vehicle to notice the driver.
The SUV had paper license plates, indicating it was a new vehicle. Police spokesman Maj. Frank Fujii said investigators need the public's help in identifying the driver.
"If your family has recently bought a light-colored SUV, please check," Fujii said. "There can't be that many light-colored new SUVs out there."
The victim is the fifth pedestrian killed on Oahu's roads this year, compared with 12 at this time last year.
Anyone with information on either accident is asked to call CrimeStoppers at 955-8300 or the Traffic Division at 529-3499.