MUSIC
Get ready to feel the heat
Head to the annual Metalfest for hardcore and more on three stages
Getting metal out of a rock takes tremendous heat.
The fire has long been ablaze, the ore has been loaded and molten iron is beginning to course toward waiting molds, where it will harden into a musical battle-ax.
Metalfest
Place: Anna Bannana's, 2430 S. Beretania St.

Admission: $7

Time:

5 p.m. Saturday, all ages

Admission: $7

Call: 354-ROCK or visit UnderworldEvents.com
The furnace is Underworld Events, whose raw material comprises more than 30 Hawaii bands, and the ferrous weapon being forged is Metalfest.
Anna Bannana's is ground zero on Saturday for the annual heavy metal festival. It shakes across three stages: one for hardcore bands, one for metal bands and one for indie rock.
Topping the hardcore stage will be Corrupt Absolute. Before they perform their own set, their bassist, Rob, and guitarist, Jack, will be seen scurrying around running sound and lights and producing the whole festival under the banner of Underworld Events.
"We choose a combination of veteran bands as well as new bands," Jack said via e-mail. "Hopefully the new bands will take the opportunity to step up to the plate in an event that allows them to get exposure they would not ordinarily get."
Fans of weighty music can expect a young but superheavy band from Kalihi called A Hollow Union to not only step up to the plate, but also hit a home run.
As an added bonus, an ESP guitar will be given away at the show courtesy of Monster Energy Drinks.
"So," Rob exhorts, "come on down and bring a friend."
That's it? "Bring a friend"?
Rob relents:
"Destroy all humans!"
Yes, the heat is on, here comes the metal.
Here's the complete lineup:
» Hardcore stage: Corrupt Absolute, 86 List, Commando, Democratic Fistfights, Hand the Hero, Laces Out, Miltons, Old Habits Die Hard, Substitoots and the Slobs.
» Metal stage: A Hollow Union, Amberlin Rose, Before Fire, Despite the Sin, Hormah, Krypnicity, Madspirit, Malachi, Morning to Mayhem, On a Death Mission, Release, Rock Opera Theatre, the Silas and We Battle On.
» Indie rock: Golfcart Rebellion, Aim for the Heart, Bari Bari 13, Breaking the Innocent, Guttercatz, Phoenix Rose, Smitz and Stoic.
Corrupt a global phenom
You know that actress in the local telephone company ads? She's up for a Tony Award for her work on Broadway.*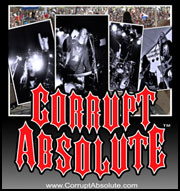 There are tons of young, hotshot ukulele players around, but did you know that one of their dads has sold literally millions of records?+
No, not all isle standouts enjoy the same recognition at home that they command abroad.
Third example:
You know that heavy metal band that plays Anna Bannana's from time to time, that fearsome threesome with the outlandishly long hair?
They're no footnote, they're Corrupt Absolute.
They've toured from China and Japan to Germany and Ireland.
They've opened for Slayer.
So bend an ear toward Rob, Jack and Kirk.
The mono-monickered three (no last names to avoid "stalkers," Jack surrenders) are headlining Saturday's Metalfest, where they'll appear on the hardcore stage.
To clear it up for the uninitiated, where does metal end and hardcore begin?
"The name 'hardcore,' when we use it, refers to the Oxnard (California) bands from the '80s, the hardcore/punk style," says Rob, the band's bass player, adding that the subgenre's label fits Corrupt Absolute's style "depending on what song we're playing."
For an aural example, check out their version of Fear's punk chestnut "I Don't Care About You" on Saturday at Metalfest, which some members of the band are helping to produce under the flag of Underworld Events.
Joining Corrupt Absolute on the hardcore stage Saturday will be hard chargers such as the 86 List and, from Hilo, Old Habits Die Hard.
Formerly known as 8MM Overdose and, before that, Machine, Corrupt Absolute is planning a third tour of China. They had planned to split the Bamboo Curtain this summer, but, as Rob puts it, "The Chinese right now want everything to be about the Olympics, before the Olympics and during the Olympics." So the itinerary has them in China come October, with Japanese dates on the schedule as well.
Answering questions about other past international activity, Rob sounds like he's stuck on a geography quiz: "Uh, Germany, Holland, oh, what else, uh, Ireland, Scotland ..."
And, now and again, Moiliili.
JEFF CLARK / STAR-BULLETIN
* Loretta Ables Sayre
+ Ohta-San