| | |
| --- | --- |
| | Island Mele |
---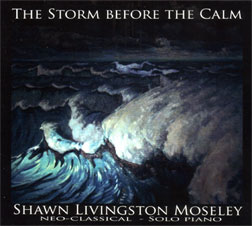 "The Storm Before The Calm"
Shawn Livingston Moseley
('Aumakua)
Beautiful music never really goes out of style. Shawn Livingston Moseley is one of uncounted millions of pianists, but this collection of solo acoustic performances has the requisite timeless beauty to make it a perfect soundtrack for a romantic interlude or for decompressing after a long slog through rush-hour traffic. Moseley writes that most these melodies came to him in dreams - sweet dreams, it would seem.
Multifaceted guitarist Jeff Peterson joins Moseley on "Call of the Sirens." The interaction between Moseley on acoustic piano and Peterson on nylon-string guitar makes the beautiful duet a perfect change of pace.
"Tranquillity," a "bonus track" from a previous session, adds another 20 minutes of music to the album. Unfortunately, a distracting, recurring tone, apparently there for ambiance, detracts from the tranquil mood.
---

"Aloha Monday"
Kaleo
(Esperanza)
Does anyone remember Aaron Kaleo Agsalda as a member of "the five-time Na Hoku Hanohano Award-winning band, the Krush" back in the days when the Krush was actually winning Hokus?
Neither do I, but whatever Agsalda may have contributed to a later version of the group, he is unquestionably ready for prime time as a solo act here. Think Kenny Rankin, think Michael Franks; those are the musical footsteps he's following.
The opening song introduces Kaleo as an accomplished singer-songwriter. All the pieces are originals, and any of them would be a natural fit on any "easy listening" radio station. Kaleo's voice is the key element here, but there's a song or two that also shows his talent as a guitarist as well. Todd Adamski (electric guitar/bass), Wendell Ching (drums) and Rocky Holmes (sax/flute) provide instrumental support and forge the musical links to Rankin, Franks and even, at times, Kalapana.
Kaleo's music stands on its own merit as a singer-songwriter's perspectives on life and love. His images certainly mirror the feelings of romantics everywhere. And although much of his musical bag is soft and romantic, several songs describe the painful and frustrating sides of love in convincing style.
The album art adds a touch of mystery. There's a map of Oahu with 10 numbered locations. Do the song numbers tie in to those places? It seems that that's for him to know and for us to find out.
---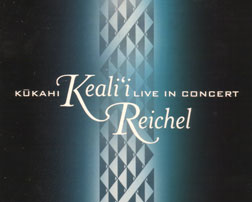 "Kukahi: Keali'i Reichel
Live In Concert"
Keali'i Reichel
(Punahele Productions)
Keali'i Reichel and his Punahele Productions ohana set a new level of excellence for Hawaiian DVDs last November with the release of this "live" album of his 2006 concert at Blaisdell Concert Hall.
They're now taking another step forward with the release of the album as a Blu-Ray Disc. Technology fans will be able to enjoy the performance in high definition with a 600 percent upgrade in image clarity. That's reason enough for them to buy a copy of one of the best Hawaiian albums of 2007.
John Berger
, who has covered the local entertainment scene since 1972, writes reviews of recordings produced by Hawaii artists. See the Star-Bulletin's Today section on Fridays for the latest reviews. Reach John Berger at
jberger@starbulletin.com
.