Time for Opihi Pickers' aloha performance
AFTER MONTHS of farewell performances,
the Opihi Pickers
wrap things up for good next week at one of the band's all-time favorite venues.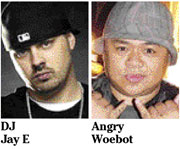 Imua Garza, his brother Hoku Garza, Kahale Morales and Kevin Okimoto say aloha starting at 9 p.m. Wednesday at Ryan's Grill, following shows in Saipan and Guam with Kaipo and Ten Feet.
News of the breakup hit in March, with everyone involved insisting it was just time to head in different directions. Recent years have seen a number of groups, including Keahiwai, Ale'a and Inoa'ole, take a break while at the top of their game. Some have moved on to other projects, but it's disheartening to watch other talented musicians leave the business altogether ...
ONE WEEK was all it took for the Wyland Waikiki to realize that a pool party can draw a pretty good crowd.
But instead of complimenting the promoters behind "SOAK," the hotel abruptly pulled the plug after guests made noise complaints. This is on a Saturday afternoon when the sun is out, not late at night (or early in the morning) when people would expect peace and quiet.
Wyland management was out of town and unavailable for comment, while promoter Rob Chiong did not respond to repeated requests for details. Sources tell me, however, that a mainland-based airline crew was responsible for getting the party shut down for good.
An alternative exists, however, for those who can't afford a hotel room and don't have access to a pool at home. Partymasters Hawaii and Embassy Suites Waikiki Beach Walk host a party every last Saturday, starting at 3 p.m.
Ironically, Partymasters also hosts a monthly event at the Wyland every last Wednesday. That one isn't in danger, since it takes place inside and management has discovered that if you close the doors, noise won't agitate cranky guests ...
WITH THREE years of experience hosting his annual "White Party," promoter Flash Hansen isn't worried about guests showing up at the Hanohano Room dressed inappropriately.
"There's no sneaking by," he said earlier this week. "You can have colored accessories ... but your top and your bottom need to be white."
Hansen and Matty Boy Hazelgrove even ended up renting all-white tuxedos the last two years, since both were too busy planning the "SKYLiNE" anniversary to go shopping. But keeping things strict only helps to elevate the night above the normal first and third Saturdays.
"I think what separates us is having the (fortitude) to say we won't let them in if they're not dressed in theme," Hansen said. "The first year suffered (when) we turned away over 100 people.
"But that makes people look forward to it even more, and they take the time and effort to put some extra thought into their outfits."
To help celebrate their success, DJ Jay E will fly in from the mainland to headline the night; doors open at 9 p.m. Saturday. E-mail vip@skylinetwo.com for VIP bottle service and table reservations ...
CLUB NEWS: The Loft will reopen for one night this weekend, when "The Honolulu Art Collective" takes place Friday from 4 to 10 p.m.
Don't get too excited just yet. According to the Loft's Daniel Gray, the club still doesn't have a valid liquor license and renovations are taking longer than expected.
"We just passed our preliminary hearing (with the Honolulu Liquor Commission), so we're not too worried," he said earlier this week. "And we've been going to neighborhood board meetings, too."
If everything goes according to plan, "The HAC" will return on July 4, with the liquor license expected a week later and an official grand opening party at the end of July ...
PARTY PICKS: The GroundUP Family hosts "China Earthquake Relief" at the Honolulu Design Center on Saturday. Doors open at 7 p.m. with $5 cover for all ages; the money goes to the Tsinghua Foundation ... Fitted Hawaii is part of "Rice Cracker" at Chai's on Saturday, when they'll debut a "Makini" limited edition cap that's designed to look like a Hawaiian warrior helmet. Wear your own cap and get in for just $5 before 11 p.m. ... Two of the promoters involved in "Rice Cracker" started at Doraku last week. The Architechs and Tantriq Entertainment now co-host "Raw Bar" at Doraku every Thursday, with half-priced pupus and $4 drinks all night ...