5 are injured after truck crashes into Kauai store
KOLOA, Kauai » A pickup truck crashed into a local supermarket yesterday morning, shattering the front window and sending five to the hospital, including the driver.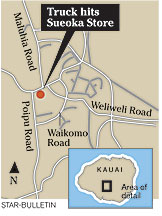 According to witnesses, the truck, traveling south on Maluhia Road, went through a stop sign at about 7:20 a.m. and continued straight into the window of Sueoka Store.
Though the driver, three customers and a cashier were taken to Wilcox Hospital to be treated for injuries from the shattered glass, no one was seriously injured.
By 11 a.m., the cashier, whom fellow co-workers would not identify, was already out of the hospital, a manager at the store said.
The store was closed throughout the day yesterday as workers cleaned up the debris caused by the pickup, and a local handyman put plywood over the hole left by the truck.
The store will likely be reopened today, the manager said.
Police said yesterday that they were continuing their investigation of the crash.