Robber's victims vent
Ruben Royce receives a sentence of 30 years in prison to pay for a "tidal wave of crime"
Kathleen Shota said her elderly parents have not been the same since Ruben Royce broke into their Nuuanu home nearly three years ago.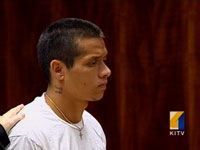 Ruben Royce was sentenced to do jail time after more than 30 felonies, including getting into a fight with "Lost" actor Josh Holloway in their Hawaii Kai Home.
"They were very traumatized by this home invasion," Shota said.
Shota's mother, Kazuko Ishida, suffered an Achilles' tendon injury when she and her husband, Hisao Ishida, held on to their bedroom door as Royce tried to force his way in. And both are fearful of leaving the house for even routine chores like watering the lawn or getting the mail and newspaper, Shota said.
Royce, 23, said he was not in his right mind and made some mistakes that he'd like to change.
Circuit Judge Karl Sakamoto sentenced Royce yesterday to 30 years in prison for the Nuuanu home invasion robbery and four others all committed over a three-week span in September and October 2005, including the home invasion and gunpoint robbery of "Lost" television actor Josh Holloway and his wife.
"Mr. Royce, you've brought a tidal wave of crime here, a multitude of crimes against our community, basically terrorizing many in their own homes," Sakamoto said.
Royce agreed to the 30-year sentence when he pleaded guilty to 34 Class A, B and C felonies in February, including kidnapping, first-degree robbery, first-degree burglary, second-degree theft and second-degree assault in connection with four of the home- invasion robberies. A jury had also found him guilty last year in a fifth robbery in which he fired a semiautomatic pistol at two people trying to hold their front door closed as Royce tried to force his way inside.
Sakamoto sentenced Royce to 20 years in prison for each of the Class A felonies, followed by 10 years for the Class B felonies. He also sentenced Royce to five years for the Class C felonies, which Royce will serve at the same time as the other sentences.
Because Royce has two prior felony convictions and because he used a firearm while committing the crimes, Sakamoto ordered him to serve at least 13 years, four months, in prison for the Class A felonies before he is eligible for parole, and six years, eight months, for the Class B felonies. The parties will have to return to court to determine whether the mandatory minimum terms will run together or back-to-back.
Senior Deputy Prosecutor Maurice Arrisgado said the Hawaii Paroling Authority will ultimately decide how much of the 30-year sentence Royce will have to serve before he will be eligible for parole.
"We want the parole board to sentence him to a minimum of 30 years. That's the state's position."