Signature hot sauce propels chili to championship
A volatile combination of four types of chili peppers and a hot sauce with the intimidating name of Natural Punishment won the annual Memorial Day Chili Cook-Off last week.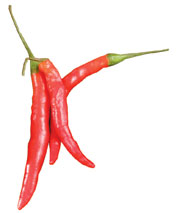 Don Miller, a food specialist for HFM Foodservice on Maui, won the title at the competition held at the Roundtop Drive home of Jack Scaff, known for training marathoners, but also a chili fanatic.
Miller's Natural Punishment Sauce is his own blend, one he plans to put on the market in the fall. In the meantime, for the purposes of following his winning recipe, he says to use your favorite hot sauce.
Miller advances to the national finals to be held in the fall. He won for a red chili; prizes were also awarded for a green chili and salsa.
Red Chili winner
Natural Punishment Chili
Don Miller
3 pounds beef, cut in cubes
1 medium Maui onion, diced
3 cloves garlic, crushed
1 can beer
1 4-ounce can diced green chilies
1 15-ounce can tomato sauce
1/2 can chicken stock
2 teaspoons Natural Punishment Pepper Sauce, or another hot sauce
» Spice mix:
2 tablespoons EACH hot Mexican chili powder, mild Mexican chili powder, arbol chili powder, California chili powder and cumin
1 teaspoon pepper
2 teaspoons salt
1 teaspoon sugar
1 teaspoon Mexican oregano
Combine spice mix ingredients.
Brown meat, remove from pot.
Saute onions and garlic in pot. Add beer and chilies; bring to simmer. Add tomato sauce, chicken stock and chili sauce. Add half of spice mix; bring to simmer.
Add browned meat, mix well, return to a simmer and cook 30 minutes.
Add second half of spice mix, mix and simmer another 1 hour. If chili gets too thick, add chicken stock. Taste and season with salt and pepper if needed. Serves 10.
Approximate nutritional analysis, per cup (not including added salt to taste): 370 calories, 23 g total fat, 9 g saturated fat, 90 mg cholesterol, 1,000 mg sodium, 11 g carbohydrate, 4 g fiber, 3 g sugar, 28 g protein.
Chili Verde Winner
Medium Hot
Wayne Ronsman
2 pounds pork
3/4 pound chopped mild green chilies (Anaheim preferred)
1/2 pound cubed hot green chilies
1/4 green bell pepper, chopped
6 medium green onions, white end only, finely chopped
5 medium tomatillos
7 large serrano peppers, finely chopped, seeds removed
2 ounces finely chopped garlic
7 ounces green chili sauce
14 ounces chicken broth
2 teaspoons salt, or to taste
1 teaspoon cumin, or to taste
1 tablespoon chopped cilantro (optional)
Touch of cigar ash (optional)
Brown meat and drain fat. Add all ingredients through salt, but reserve half of the hot chilies.
Simmer 30 minutes; add cumin. Continue simmering 1-1/2 hours more.
Add remaining hot peppers and up to 1 more teaspoon salt, if needed. Cook on low simmer for 1/2 hour.
Add cilantro, if using. After 5 minutes, add cigar ash. Serves 8.
Approximate nutritional analysis, per cup (not including cigar ash): 210 calories, 6 g total fat, 2 g saturated fat, 80 mg cholesterol, 1,200 mg sodium, 13 g carbohydrate, 2 g fiber, 5 g sugar, 27 g protein.
SALSA WINNER
Bud's Delight
Gayle Rich
5 medium Kamuela tomatoes, diced
1 Maui onion, diced
4 Hawaiian chili peppers, minced
9 small sweet bell peppers, mixed colors, diced
1/2 Maui Gold pineapple, diced
2 bunches cilantro, chopped
5 garlic cloves, minced
1 teaspoon Hawaiian salt
1 teaspoon pepper
2 tablespoons Hawaiian chili-pepper jelly
2 tablespoons Mexican seasoning
1 tablespoon lime juice
1 tablespoon white-wine vinegar
Drain excess liquids from vegetables. Combine with remaining ingredients; mix well. Cover and chill. Makes 1-1/2 quarts.
Approximate nutritional analysis, per 1/4 cup: 25 calories, no fat or cholesterol, 115 mg sodium, 6 g carbohydrate, 1 g fiber, 3 g sugar, 1 g protein.

Nutritional analyses by Joannie Dobbs, Ph.D., C.N.S.