---
Foodbank donations accepted at book signings
When I was on the book-signing circuit for "What Hawai'i Likes to Eat" late last year, the most frequent question I got was, "Where's Muriel?" Co-author Muriel Miura stays with her daughter in Maryland for several months each fall, so she missed all the hoopla.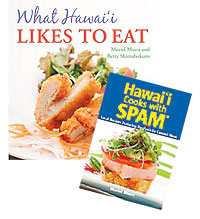 But she's signing now. We'll both be at the Kapiolani Community College Farmers' Market from 7:30 to 10 a.m. Saturday. Buy our cookbook or "Hawai'i Cooks with Spam," bring one you already have, or bring any of Miura's many previous cookbooks. We'll sign anything.
Entry forms for the Spam recipe contest will be available, and donations to the Hawaii Foodbank will be collected. You can also drop off recipe entries there. The same goes for all of Miura's other signing sessions for "Hawai'i Cooks with Spam":
» Sunday: 1 to 2 p.m., Barnes & Noble Ala Moana
» June 10: 10 to 11 a.m., Don Quijote Kaheka
» June 14: 11 a.m. to noon, Borders Ward
» June 15: 3 to 4 p.m., Barnes & Noble Kahala
Betty Shimabukuro, Star-Bulletin
Kapalua Wine & Food Festival cracks Top 10 list of events
The Kapalua Wine & Food Festival has been named the nation's No. 3 event combining wine and seafood. Coastal Living magazine picked the Top 10 festivals for its June issue.
The annual Maui event "invites sippers to tour the world's best wine regions during a tasting overlooking the Pacific Ocean," the magazine states.
Kapalua followed the Stone Crab Seafood & Wine Festival in Longboat Key, Fla., at No. 1, and the Sushi & Sake Festival in Long Beach, Calif., No. 2.
This year's festival takes place June 26 to 29, with wine seminars hosted by master sommelier Fred Dame, special dinners, wine tours and the finale seafood dinner. Guest chefs include Frank Ostini of the Hitching Post (of "Sideways" fame) in Santa Barbara, Calif.
Four-day admission is $800, but a la carte tickets are available, as are packages including accommodations at the Kapalua Villas or the Ritz-Carlton Kapalua. Call (888) 665-9160 or visit www.kapalua.com. -- Star-Bulletin