---
FAST FACTS HAWAII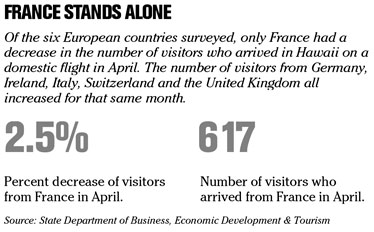 ---
HAWAII
Air seats expected to fall 11%
Scheduled airline seats on nonstop flights to Hawaii are expected to decline 11.4 percent to 2.4 million from June to August compared with a year ago, according to data released yesterday by the Department of Business, Economic Development & Tourism.
Seats on mainland flights are forecast to fall 11.3 percent to 1.8 million, with the U.S. West down 13.1 percent to 1.5 million and the U.S. East off 0.2 percent to 285,159.
International seat capacity is expected to decline 11.8 percent to 615,211, with available seats from Japan to fall 17.2 percent to 407,405.
UH business school gets $250,000
The University of Hawaii Shidler College of Business has received $250,000 to be used for scholarship funds from UH business alumni living in Hong Kong and Japan.
The money was given to business department Dean V. Vance Roley during a recent trip to Asia.
Prospect Asset Management, a Hawaii-based investment advisory firm that specializes in Japanese investments, and its president, Curtis Freeze (MBA, 1987) donated $100,000 in scholarship funds to support students in the Japan-focused MBA program. Freeze previously gave a personal gift of $15,000 in 2007, while Prospect Asset Management and Freeze donated $100,000 to the College of Business in 2005.
Ignatius T.C. Chan (BBA 1986, MBA 1979), chief executive of Bank of China Hong Kong Ltd., donated $50,000 toward the T.C. and Angeli Chan Endowed Scholarship Fund after establishing the fund with a $50,000 donation in 2004. The merit-based scholarship will be awarded to students in China, Hong Kong, Taiwan and Macao studying at the UH College of Business.
Richard T.C. Leung (BBA 1981) and his wife, the former Mary Wu (BBA 1979), gave $100,000 to establish the May and Richard Leung Endowed Scholarship Fund. The scholarship will provide international students from mainland China, Hong Kong, Macao or Taiwan an opportunity to study business at the College of Business. The $100,000 was matched by Shidler's Matching Gift Funds to total $200,000.
Verizon Wireless to aid victims
Verizon Wireless
, in a show of support for survivors of the natural disasters that occurred earlier in May in China and Myanmar, is allowing customers in Hawaii to join the relief efforts by donating money to Save the Children, an agency that implements programs focused on early childhood care and development, child survival and child protection.
Verizon Wireless post-pay customers with phones capable of text messaging can use those phones to donate to Save the Children. To participate, send a message to the address, 4SAVE (47283), with the key word "quake" to contribute to earthquake relief or the key word "cyclone" to contribute to cyclone relief. Texters will receive a reply message asking them to confirm a donation to Save the Children of $5 for the designated program. To do so, customers will press "Y" on their keypad, and send that message.
NATION
Toyota and Honda outsell Ford
DETROIT » U.S. auto sales in May brought the starkest signs yet that gas prices have dramatically shifted the market to smaller cars, as the top-selling
Ford
F-series truck was dethroned by cars from Toyota and Honda and as
General Motors
announced it was closing four truck and SUV plants (see Page B7).
GM said yesterday its sales fell 28 percent in May compared to a year earlier, with a 37 percent decline in truck and SUV sales and a 14 percent drop in car sales. Ford's sales fell 16 percent for the month, while Chrysler LLC's sales were down 25 percent and Toyota Motor Corp.'s sales slipped 4 percent. Overall sales were down 11 percent compared to last May, according to Autodata Corp.
Honda Motor Co., riding the wave of customers seeking better fuel efficiency, said its sales rose 18 percent; a 36 percent increase in car sales made up for an 8 percent decline in truck and SUV sales.
Borders cuts nearly 275 jobs
DETROIT »
Borders Group Inc.
said yesterday it is eliminating 20 percent of its corporate positions, or nearly 275 jobs, as part of an effort by the nation's second-largest bookseller to cut annual expenses by $120 million.
Borders, which is more than a year into a restructuring and is considering selling off the company, said the cuts -- part of a cost-reduction plan announced last week -- represent less than 1 percent of its about 30,000 total work force.
The bookseller has lost market share both to online retailers and to discounters amid a difficult U.S. economic climate. The company announced in March it would explore strategic alternatives, which could include a sale, and rival Barnes & Noble Inc. has assembled a management team to study the feasibility of a combination with Borders.
NEW HIRES/PROMOTIONS
» Gilbert & Associates has announced the following new hires:
* Mahie Wong as public relations and account manager. She was previously the public relations, media and sales contact for Mountain Apple Co.
* Todd A. Vines as public relations and account manager. He was previously editor of Kauai Publishing Company's Essential Kauai visitor publication and online editor of The Garden Island newspaper.
* Mary Cajski as art director. She was previously a graphic designer at Tori Richard.
» Outrigger Enterprises Group has named Kenneth W.K. Kan senior hospitality investment analyst. He will prepare and analyze information, and present recommendations in connection with potential hotel management agreements, acquisitions and/or developments in the U.S. and Asia.
» Embassy Suites-Waikiki Beach Walk has promoted Shantel Burns to sales manager from sales coordinator. She will work with travel industry and wholesale partners, third party distribution sales efforts, and manage all special retail promotions for the resort. She has 20 years of hospitality experience.
» Destinations Resorts Hawaii has hired Dean Anderson as director of sales and marketing.
» Hawaiian Airlines has named Avi Mannis vice president of revenue management and schedule planning. He will oversee seat inventory, flight schedules and fare prices for Hawaiian's transpacific and interisland flights.
» KITV 4 Island Television has hired Cathy Im as digital sales manager. She will oversee the station's digital sales efforts including KITV.com and Island Weather NOW Digital Channel 126. She was previously a senior account executive at KGMB 9.
» Tiki's Grill & Bar has named Wayne "Pancho" Gomes general manager. He will oversee daily operations and introduce a new menu in mid-June.
» The Hawaii Lumber Products Association has named Aaron A. Eberhartt executive director. He will increase relations with state legislators and industry professionals, attend trade shows and conferences, research wood-based building issues and assist in development of educational materials to help industry professionals. He will retain his current position as director of development and partner with Westwood.
» The Bishop Museum has named Donalyn Dela Cruz government affairs and community relations manager. Her experience includes principal associate at Pacific Management Consultants, press secretary to U.S. Sen. Daniel K. Akaka, communications director for the Hawaii Democratic Party and broadcast journalist at KHON.
» Hawaiian Host has hired Curtis Caya as IT system administrator. He will maintain company information systems, provide technical support and evaluate new software to maximize technical efficiency at the company.
» Aloha United Way has announced the following new hires:
* Linda Masuda as assistant vice president of community building and early childhood development coordinator. She has 18 years of administrative experience.
* Joe Salas as business development director for the campaign department.
* Keoni Williams as marketing and communications coordinator.
» Prudential Locations has announced the following new agents:
* John Baessler has more than seven years experience and is a designated broker.
* Iris T. Rapoza has 18 years of experience in sales and marketing.
* Bonnie Tam-Hoy returns as a real estate agent after transferring to Prudential's management team in 2006. She has more than 20 years of sales management and marketing experience.
* Frances E. Ueunten has more than 24 years experience with firms including Castle & Cooke Realty, Palisades Realty and Castle & Cooke New Homes Sales.


---
BUSINESS PULSE