Diverse soundtrack covers all the facets of love
"Sex and the City:
Original Motion Picture Soundtrack"
(New Line Records)

Ladies, you have my sympathy. It's like, on one hand, look faboo, and on the other, have a deeply meaningful relationship. But the constant conflict sure makes for riveting melodrama, and you've got it in spades with the "Sex and the City" movie.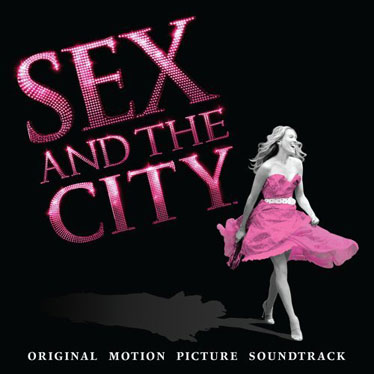 For the film's musical accompaniment, writer-director Michael Patrick King wanted "a soundtrack for the ultimate movie about love," and producer Salaam Remit rose to the challenge, creating a smart selection of songs that have a decent overall flow.
The album kicks off with the movie's two main songs -- both brash and confident -- Fergie's "Labels or Love" and Jennifer Hudson's end-credit "All Dressed in Love." Fergie declares, over samples of the TV series' recognizable theme, that she prefers "no emotional baggage ... just be festive with Dior." But Hudson aims straight for the heart, and it results in a fine performance, perhaps better than her supporting role in the movie. Kudos for the song go to the Heart Attack writing team, aka Jack Splash and Cee-Lo, for bringing some oomph to the table.
There are other songs for every mood in the movie: the gal pals' first heady days in the Big Apple represented by Run-DMC's "Walk This Way;" fun pop-rock with the new-wave cheer of "New York Girls" (Morningwood) and the wide-eyed "All This Beauty" (The Weepies); and the sexy, make-out stuff with "I Like the Way" (Kaskade, featuring Collette) and "Kissing" from Danish downtempo/ambient act Bliss.
The Bee Gees get their props through two covers. Al Green's Memphis soul-sweet 1972 version of "How Can You Mend a Broken Heart" is refurbished, complete with old-school vinyl pops and clicks, with a vocal overlay courtesy Joss Stone. Interesting, but Green's original is still the best, untouched.
Better still is the Bird and the Bee's take on "How Deep is Your Love?" The Los Angeles indie pop/electronica duo features the wonderful vocals of Inara George, and she and partner Greg Kurstin give a lovely and airy treatment to the 1977 classic.
Rounding out the soundtrack is Jem's baroque, hip-hoppy "It's Amazing," India.Arie's emotional "The Heart of the Matter" and a sublime and affecting "Auld Lang Syne" by Scottish duo Mairi Campbell and Dave Francis.
Top it all off with a splash of the movie's theme, and you've got one satisfying cocktail of a collection.