BOOKSHELF
Isle Pages
New book releases from Hawaii authors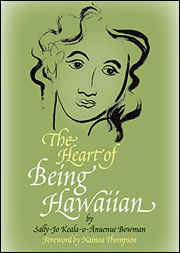 "The Heart of Being Hawaiian"
Sally-Jo Bowman, illustrated by Tamara Moan
(Watermark, $16.95)
This collection of essays covers topics from lua (Hawaiian martial arts) and lomilomi (massage) to Kahoolawe and Kalaupapa. Through these writings and profiles of several Hawaiian kupuna, Sally-Jo Bowman explores the question of what it means to be Hawaiian today.
The collection grows out of Bowman's 20-year search for her own identity as a Hawaiian woman. It is illustrated by her daughter, Tamara Moan.
Mother and daughter hold a reading and talk at 10 a.m. Saturday at Morning Brew Cafe, Kailua Shopping Center, with a book signing to follow.