| | |
| --- | --- |
| | Wood Craft |
---
Carole Kai and husband enjoy trips to D.C., Indianapolis 500
Carole Kai
had lunch at Stage with friends Wednesday after returning Monday night from trips to Washington, D.C., and the Indianapolis 500. Carole and her husband,
Eddie Onouye
, went to D.C. to visit former Transportation Secretary
Norman Mineta
and his wife,
Deni
. Deni had worked with Eddie here at Locations Inc.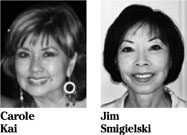 They were at a function at which Mineta spoke, and Rep.
Mazie Hirono
was among the dignitaries attending, Carole said. The Onouyes and Minetas dined at the award-winning CityZen Restaurant in the Mandarin Oriental. The hotel is managed by
Jan Goessing
, who formerly managed the Kahala Mandarin. He and his wife,
Susanne
, miss Hawaii and send their best to their many friends here, Carole said. Then the Onouyes sped to Indianapolis last Saturday for the 500 and hooked up with
Al
and
Charlyn Masini
, who were there with
Jim Nabors
. Jim sang "Back Home Again in Indiana" at the speedway, and the crowd sang along with him. "We saw driver
Danica Patrick
get hit, spin into the wall and then get her right front tire stuck in the car frame, rendering her car unable to move," Carole said. "Auwe! She was fit to be tied and got out of her car, looking to bash the driver for the mistake he made, but was stopped by officials. I would have loved to see her bop him once. He deserved it" ...
Janis Clapoff resigns as halekulani GM
Halekulani GM
Janis Clapoff
has resigned for family reasons after running the luxury hotel for three years. This is her last weekend at the property, and she will soon depart for the Santa Barbara area with her 13-year-old twins,
Jayme
and
Jesse
. Under her tenure, Travel and Leisure magazine in 2006 voted the Halekulani No. 1 in service for Hawaii hotels and resorts, and its spa was voted No. 2 in the U.S. Clapoff also created the Halekulani Living program. She leaves big shoes to fill ... Realtor
Carl Smigielski
surprised his wife, cookbook author
Jim
(that's her name)
Smigielski
, with a trip to San Francisco for her birthday. They celebrated May 24 at Yoshi's jazz club.
Herb
and
Lani Alpert
were booked at Yoshi's with a jazz group. Herb had the birthday girl stand up to applause from the crowd. Carl handles real estate for Herb and Lani here ...
Ben Wood
, who sold the Star-Bulletin in the streets of downtown Honolulu during World War II, writes of people, places and things in our Hawaii. E-mail him at
bwood@starbulletin.com