Walgreens planning store for Nuuanu
The chain has bought the site of the Hungry Lion restaurant
Deerfield, Ill.-based
Walgreen Co.
is planning to build another Honolulu store at the Nuuanu Shopping Plaza, the leasehold interest of which it acquired on May 23.
The company doesn't have a specific plan or timeframe for the new store, but will most likely raze the existing center and construct a new building, which could include other retail space, said spokesman Michael Polzin.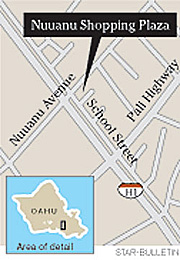 Current tenants - including Aloha Sushi, Subway and Hungry Lion restaurant - will be replaced at some point, though there may be opportunities for retail tenants once a new store is built, Polzin said.
"Because we don't have any specific plans drawn up for this site yet, we don't know if there will or won't be opportunities for other retail with us," he said.
Terms of the deal weren't disclosed. County tax records, which valued the building at $2.3 million as of last October, indicate the most recent lease owner as Nuuanu Center Partners.
Walgreens invests about $5 million when building a typical 14,000-square-foot store from the ground up, which generally includes a drive-through pharmacy.
Turmoil in the financial markets hasn't affected the company's plans to open between 25 and 30 Hawaii stores over the long term. In addition, Walgreens is typically more "recession-resistant" since two-thirds of its sales are pharmacy-related - things people don't cut back on despite hard economic times, he said.
Sales are strong at Walgreens' first Hawaii store, which opened last November at Keeaumoku Street and Kapiolani Boulevard, according to Polzin.
Two more Walgreens are expected to open on Oahu - a more than 14,000-square-foot store with a drive-through pharmacy in Kaneohe and a similarly-sized operation in Kalihi - and another in Lahaina on Maui. The Kaneohe store is set to open by year's end, while the Kalihi and Lahaina operations will open early next year.
"We're actively pursuing sites and we're going to continue expanding our services throughout the state," he said.