---
FAST FACTS HAWAII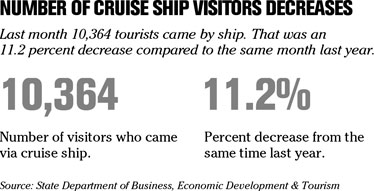 ---
NATION
Ford to build new car in Mexico
DETROIT »
Ford Motor Co.
plans to build its new Fiesta subcompact at a factory near Mexico City for sale in the U.S., the company said yesterday.
Ford plans to retool its Cuautitlan Assembly Plant from large-truck to small-car production as it moves to shift its factories from trucks toward more fuel-efficient vehicles, the company said.
The move is a blow to the United Auto Workers union, which doesn't represent workers in Mexico.
Ford has sold 12 million Fiestas since the vehicle was introduced in 1976. Although it's a familiar name to customers in Europe, Asia and South America, the Fiesta was only sold in the U.S. from 1978 to 1980.
North America will get a new four-door version as well as the European hatchback in 2010.
Frontier, First Data reach deal
DENVER »
Frontier Airlines
said yesterday it has reached an agreement with
First Data Corp.
on how the credit-card processor handles proceeds from ticket sales, an issue the airline said had forced it to file for bankruptcy protection.
Officials of both companies declined to release details.
Frontier filed for Chapter 11 bankruptcy protection last month. CEO Sean Menke has said the airline was forced into the move when First Data sought to hold up to 100 percent of proceeds from ticket sales until the passengers' flights were completed. Previously, First Data had been withholding 50 percent.
Kodak raises film, paper prices
ROCHESTER, N.Y. »
Eastman Kodak Co.
, the photography company remaking itself in the digital age, is raising prices on film and paper, a premium that customers looking for the traditional medium may be willing to pay.
Kodak said yesterday it is lifting prices by as much as 20 percent after costs for silver, aluminum, plastics and resin added about $25 million to first-quarter spending. The changes are limited to items relating to the film business, which has faced declining demand as consumers go digital.
Chief Executive Officer Antonio Perez is trying to restore profit after a first-quarter loss. Film and paper products slipped to about 19 percent of sales last year and fell 13 percent in the first quarter.
WORLD
A third business airline fails
LONDON »
Silverjet
, the business-class-only airline, yesterday became the third such carrier to cease operations in the last six months, unable to cope with rising fuel costs or attract new financing.
The British airline, one of four independent carriers that focused on flying business travelers across the Atlantic, suspended its service after 18 months.
Silverjet, which flew from London to New York and Dubai, failed to receive a $5 million payment from the investment fund Viceroy Holdings, based in the United Arab Emirates, as part of a loan agreement, forcing about 9,500 people to rebook flights with other airlines.
But the appointed administrator for Silverjet, Begbies Traynor, said yesterday that "a number of interested parties have already been in contact," making the company "confident" that it can find a buyer.
BRIEF CASE
PAY UP: Las Vegas Sands Corp., the world's largest casino company by market value, must pay $43.8 million to a Hong Kong businessman who assisted the company in winning a gaming license in Macau, China, a jury ruled. Las Vegas Sands executives reneged on a "success fee" of $5 million plus two percent of the ongoing profit of the resort, replacing it with a deal worth less, Richard Suen said Nevada court documents. Las Vegas Sands spokesman Ron Reese didn't immediately return a call for comment.
E-READING LIST: Amazon.com said yesterday that publisher Simon & Schuster Inc. will make 5,000 more books available for the Amazon Kindle wireless reader, bumping to 125,000 the number of titles users can download and read. Amazon.com Inc. Chief Executive Jeff Bezos has said Kindle e-books now account for 6 percent of sales among the 125,000 titles available on the site in both electronic and print formats. The online retailer cut the Kindle's price by $40 to $359 on Tuesday but still won't say how many have sold.


---
BUSINESS PULSE