| | |
| --- | --- |
| | Island Mele |
---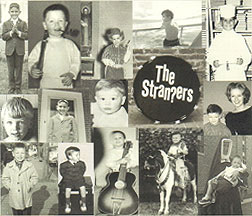 "Meet The Strangers"
The Strangers
(Vandaley)
Guitar band rock is the format of choice for the Strangers -- Otis Schaper (guitar/vocals), Robert Brey (guitar), Ian Chames (bass) and Michael Scherr (drums/vocals) -- a quartet of bar band veterans who introduce themselves with 10 original songs.
Some of these selections sound as if they were written to be heard over a crowd of hard-drinking weekend partiers. Others are semiacoustic and introspective.
"Trailer Park Princess" stands out for its driving, high-energy riffs and comic lyric images of a horn-dog who tries to convince a waitress in a diner that he doesn't think he's slumming by trying to hook up with her.
"Cheap Suit," the other humorous song in the collection, describes the plight of a man who wakes up with a woman he met while deeply under the influence of alcohol and lust. In the bright light of morning she's "coyote (ugly)," but in comes her father with a shotgun, an ultimatum and the titular suit with a wedding ring in one of the pockets.
"Eddie Would Go" is noteworthy for being an up-tempo requiem for the iconic island hero Eddie Aikau. "Surfer's Moon" delves a bit deeper philosophically, combining surf images with thoughts on the passage of time and the need to sometimes seize the moment while you're still able to do so. Several other songs apparently refer to the writers' experiences, but in such oblique ways that the morals of the stories are murky.
A few songs briefly reference other melodies but not to the point of violating "fair use" laws.
Producer Rick Smith makes excellent use of a short list of guests to slip in additional textures in on several songs. Kit Ebersbach adds the vintage sound of Hammond B-3 organ on five selections; Rocky Holmes, Robi Kahakalau and Steve Ware make significant contributions as well.
---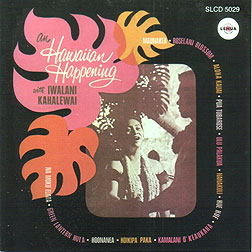 "An Hawaiian Happening
with Iwalani Kahalewai"
Iwalani Kahalewai
(Lehua)
The local music industry doesn't hear much these days about Benny Saks (aka Ben Sakamaki), but a generation or so ago he was well-known as a performer and composer -- and also for arranging this 1974 album.
Lehua Records is one of the few old-time local record labels that Michael Cord has not acquired for the purpose of reissuing out-of-print titles on CD, and so this latest Lehua reissue lacks the detailed annotation Cord includes on his projects. In fact, there's little more here than Jack Williams' original liner notes, and no mention of who produced these sessions. Still, anyone who has tried unsuccessfully to find a good copy of the vinyl album will applaud the decision to reissue it at all.
Writing almost 35 years ago, Williams hailed the album as a collection of Hawaiian standards redone with "a modern, rock and country Western flavor." Upon review in 2008, however, it's Kahalewai's beautiful voice that catches the ear.
Yes, there's a drummer playing what was once known as a "trap set" on "Ulu Palakua," and Saks' arrangement of the backing vocals on "Na Moku Ilima" has a '60s pop feel, but there's nothing here that could be mistaken for rock, let alone "country Western."
And that's not a problem. Kahalewai, Saks and the uncredited studio musicians did a fine job with these Hawaiian and hapa haole tunes, and this reissue is a welcome one.
John Berger
, who has covered the local entertainment scene since 1972, writes reviews of recordings produced by Hawaii artists. See the Star-Bulletin's Today section on Fridays for the latest reviews. Reach John Berger at
jberger@starbulletin.com
.